Dr. Joanne Pransky
"How are we going to respond, psychologically and socially, to a world in which we coexist with robots? Equally important, how will they respond to us?"

Meet renowned robotics expert and futurist Joanne Pransky, the World's First Robotic Psychiatrist®, who brings Isaac Asimov's science fiction character — robopsychologist Susan Calvin — to life.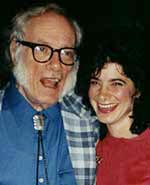 "She's the real Susan Calvin!" — Isaac Asimov
Joanne has been working in the robotics industry for over 25 years, bridging the gap between the make-believe and the real, focusing on the evolving societal changes brought about by robots. As a Robotics Industry Ambassador, her mission is to facilitate the integration of robots into everyday life — helping people understand the emotional and psychological aspects of a technology that will have more of an impact on their lives than the automobile, PC, and the internet. She has researched and lectured nationally and internationally on issues concerning the human/robot relationship since 1986, and has
appeared
on television and radio.
Joanne has pioneered many "firsts" in the robotics business including: the field of robotic psychiatry; started as one of the principals, the world's first medical robotics journal; debuted the Chinese Twin Android in the U.S. with an appearance on the Jimmy Kimmel Live Show as part of its U.S. Tour; and most recently consulted for the new movie,
Ender's Game
featuring Harrison Ford, in which Joanne brought never-seen-before medical robots and real users of robotic technologies from various parts of the world onto the big screen.
Joanne just joined
SciFutures
, an innovative technology and foresight company that uses science fiction prototyping to generate a significant competitive advantage for their clients, as a robotics consultant. She is also the Managing Editor of Wiley's
International Journal of Medical Robotics and Computer Assisted Surgery
and an Associate Editor of Emerald's
Industrial Robot Journal
. Previously, Joanne served as the senior sales and marketing executive for Sankyo Robotics, a world-leading manufacturer of industrial robot systems, including the ROBODOC® Surgical Assistant, a computer-controlled surgical robot utilized in hip and knee replacement surgeries.
On the lighter side, Joanne was an official judge on the television-hit series of live robotic combat, "Comedy Central Sports Presents BattleBots" and was a judge for the First Robot/Human Arm Wrestling Competition. She has also appeared on CNN, The Tonight Show, the Discovery Channel, MSN's "Play it 4-Ward", and the NTV Russian Broadcasting Channel. She is known for her humor and unique ability to generate enthusiasm for the future of robotics.
Read her
selected publications
. View her
Facebook page
. Read her
LinkedIn profile
and her
Wikipedia profile
. Follow her
Twitter feed
.