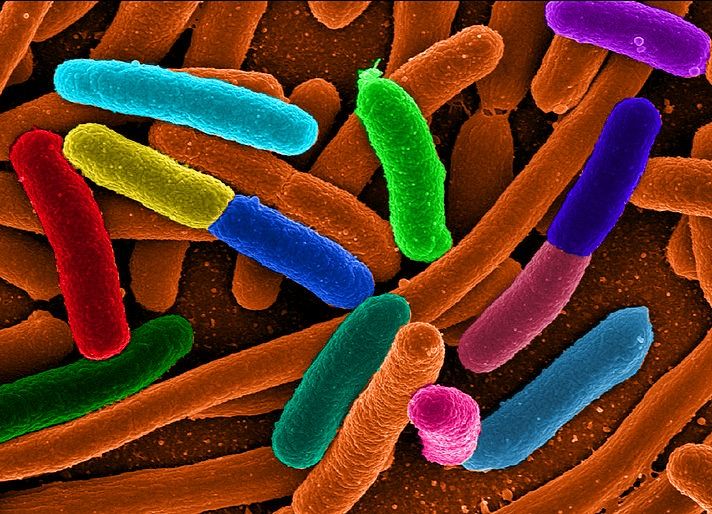 - @ClubOfINFO — A recent massive leap forward in synthetic life, recently published in Nature, is the expansion of the alphabet of DNA to six letters rather than four, by synthetic biologists – the technicians to whom we entrust the great task of reprogramming life itself.
Breakthroughs such as the above are quite certain to alert more and more people to synthetic biology and its possible consequences. For as long as such breathtaking discoveries continue to be made in this area of research, it is inevitable that latent fears among society will come closer to the surface.
There is likely to be a profound distrust, whether inculcated by religion or by
science fiction horror
movies and literature, towards the concept of tampering with nature and especially the very building blocks that brought us into existence. While the people with this profoundly negative reaction are not sure what they are warning against, they are motivated by a vitalistic need to believe that the perversion of life is going to provoke hidden – almost divine – repercussions.
Is it really true that no-one should be meddling with something so fundamental to life, or is synthetic biology the science of our century,
our civilization's key
to unlimited energy? Whatever the answer may be, the science enabling it already exists and is growing rapidly, and history seems to show that any technology once invented is impossible to contain.
The fact that synthetic base pairs now exist should confirm, for many, the beginning of humanity's re-engineering of the structures of life itself. As it is unprecedented in our evolution, we are presented with an ethical question and all points of view should be considered, no matter how radical or conservative they are.
It is hard to find a strong display of enthusiasm for the use of synthetic biology as a solution to the world's greatest problems, even among the transhumanists and techno-progressives. Most of the popular enthusiasm for technological change, particularly the radical improvement of life and the environment through technology, focuses on artificial intelligence, nanotechnology, and things like solar cells as the solution to energy crises. There is not much of a popular case being made for synthetic biology as one of the keys to civilization's salvation and humanity's long-term survival, but there should be. The first obstacles to such a case are most likely fear and prejudice.
Even among those theorists who offer the most compelling arguments about self-sustaining technologies and their potential to democratize and change the means of production, enthusiasm for synthetic biology is purposely withheld. Yannick Rumpala's paper
Additive manufacturing as global remanufacturing of politics
has a title that speaks for itself. It sees in 3d printing the potential to exorcize some of the most oppressive structural inevitabilities of the current division of labor, transforming economics and politics to be more network-based and egalitarian. When I suggested to Yannick that synthetic organisms – the most obvious choices of technology that will be able to self-replicate and become universally available at every stratum of global society – he was reserved. This was half due to not having reflected on biotechnology's democratic possibilities, and half due to a principled rejection of "artificial environments".
Should synthetic biology make people nervous rather than excited, and should be it be rejected as controversial and potentially dangerous rather than embraced as a potentially world-changing and highly democratic technology? The second tendency that results in a rejection of synthetic biology by those who normally go about endorsing technology as the catalyst for social change is the tendency to point to a very specific threat – a humanity-threatening virus.
This second rejection of synthetic biology is easier to respond to than the first, because it is very specific. In fact, the threat is discussed in sufficient depth by synthetic biology's own leading scientist himself, J. Craig Venter, in his 2013 book
Life at the Speed of Light
. In anticipation of a viral threat, "bio-terror" is considered the top danger by the US government, but "bio-error" is seen by Venter as an even bigger danger. There is a possibility of individual accidents using synthetic biology, analogous to medical accidents from overdoses. It could involve a virus introduced as a treatment for cancer becoming dangerous (like in the movie, I Am Legend). This is especially possible, if the technology becomes ubiquitous and "DIY", with individuals customizing their own treatments by synthesizing viruses. However, many household materials and technologies already present the same level of threat to lone individuals, so there is no reason to focus on the popular use of synthetic biology as an extraordinary threat.
A larger scale disaster is far easier to prevent than the death or illness of a lone individual from his own synthetic biology accident. A bio-terror attack, Venter writes, would be extremely difficult using synthetic biology. Synthetic biology is going to give medical professionals the ability to quickly sequence genomes and transmit them on the airwaves to synthesize new vaccines. This would only make it easier to fight against bioterror or a potentially apocalyptic virus, as the threat could be found and sequenced by computers, with the cure being synthesized and introduced almost immediately. Despite this fact that synthetic biology provides the best defense against its own possible threats, it is still important to be balanced in our recognition of the benefits and threats of this technology.
More dangerous than a virus breaking loose from the lab, Venter recognizes the potential for the abuse of synthetic biology by hostile governments. Of most concern, custom viruses could be used as assassins against individuals, whether by governments or conspirators. A cold could be created to have no effect on most people, but be deadly to the President of the United States. All you would need to do is get access to a sample of the President's genetic material, sequence it, and develop a corresponding virus that exploits a unique weakness in his/her DNA. This danger in particular seems to be more worthy of concern than an apocalyptic virus or devastating bioterrorist attack striking the whole of humanity.
The ethical burden on those who work with synthetic life, as Venter takes from a US government bioethics study, requires "a balance between the pessimistic view of these efforts as yet another example of hubris and the optimistic view of their being tantamount to "human progress" ". Synthetic biologists must be "good stewards", and must "move genomic research forward with caution, armed with insights from value traditions with respect to the proper purposes and uses of knowledge."
However, there is also an undeniable reason to embrace synthetic biology as a solution to many of the world's most urgent problems.
J. Craig Venter's own words
confirm that synthetic life deserves to be included in Yannick Rumpala's analysis, as a democratic technology that can transform global politics and economics and counter disparity in the world:
"Creating life at the speed of light is part of a new industrial revolution that will see manufacturing shift away from the centralized factories of the past to a distributed, domestic manufacturing future, thanks to 3-d printers."
There may be a terrible threat from synthetic biology, but it will not necessarily be bio-error or bio-terror. The abuse could come from none other than a very familiar leviathan that has already violated the trust of its citizens before: the supposedly incorruptible United States government. Already, there is an interest in sequencing everyone's genomes and placing them on a massive database, ostensibly for medical purposes. One cannot help but connect this with the US government's fascination with tracking and monitoring its own citizens. If the ability to customize a virus to target an individual is true, the killer state will almost certainly maintain the military option of synthetic biology on the table – a possible way of carrying out "targeted killings" around the world in a more sophisticated and secretive manner than ever before.
The threats of synthetic biology are elusive and verge on being conspiracy theories or overused movie plots, but the magnificent potential of synthetic biology to eliminate inequality and suffering in the world is clear and present. In fact, the greatest bio-disaster in the history of the world may be humanity's reluctance to remanufacture life in order to make more efficient use of the world's declining natural resources. At the same time, the belief that ubiquitous synthetic biology will threaten life is secondary and distracting, as the true responsibility for unjustly threatening life is likely to always be with the state.
By Harry J. Bentham — More articles by Harry J. Bentham

Originally published on 13 May 2014 at the Institute for Ethics and Emerging Technologies (IEET)