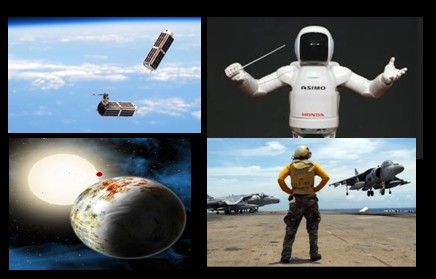 "The Artificial Intelligence Revolution. http://www.businessinsider.com/louis-del-monte-interview-on-…z36cuf3TIC
By 2045 'The Top Species Will No Longer Be Humans,' And That Could Be A Problem http://www.businessinsider.com/louis-del-monte-interview-on-…z36cwH40nU
"IN THE FUTURE WHEN MACHINE INTELLIGENCE WILL OUTMATCH NOT ONLY YOUR OWN INTELLIGENCE!" http://www.linkedin.com/today/post/article/20140705210305&#4…telligence
The Next 20 Years Are Going To Make The Last 20 Look Like We Accomplished Nothing In Tech https://www.linkedin.com/today/post/article/20140705233135&#…ng-in-tech
Chronos, Eurekas, Kairos, Blitzkriegs, and Techno-Sputniks! https://www.linkedin.com/today/post/article/20140706000725&#…o-sputniks
What Jobs Will Robots Have in the Future? http://online.wsj.com/articles/robots-how-will-they-be-emplo…1404390617
Military robots and the future of war http://www.ted.com/talks/pw_singer_on_robots_of_war
What Jobs Will Robots Have in the Future? http://online.wsj.com/articles/robots-how-will-they-be-emplo…1404390617
The robots of the future won't look anything like the Terminator http://www.theverge.com/2014/4/16/5617290/soft-robotics-is-booming
How robots are changing search and rescue http://www.bbc.com/future/story/20140612-robots-to-the-rescue
How online 'chatbots' are already tricking you http://www.bbc.com/future/story/20140609-how-online-bots-are-tricking-you
SOFTWARE WAS REPLACING ADMINISTRATORS AND TRAVEL AGENTS, BOOKKEEPERS AND SECRETARIES, AND AT ALARMING RATES.
IN 2012, SILICON VALLEY INVESTOR VINOD KHOSLA PREDICTED THAT ALGORITHMS AND MACHINES WOULD REPLACE 80% OF DOCTORS WITHIN A GENERATION.
Technology is set to challenge traditionally safe professions.
"Software substitution, whether it's for drivers or waiters or nurses… it's progressing," Gates said. "Technology over time will reduce demand for jobs, particularly at the lower end of skill set… 20 years from now, labor demand for lots of skill sets will be substantially lower. I don't think people have that in their mental model."
Kelly believes the next 20 years in technology will be radical. So much so that he believes our technological advances will make the previous 20 years "pale" in comparison.
While science is certainly increasing knowledge, it's actually increasing our ignorance even faster.
Lifeboat Foundation Worldwide Ambassador White Swan Update and Published Amazon Author by Andres Agostini at www.amazon.com/author/agostini