SIMPLICITY DEATH! By Mr. Andres Agostini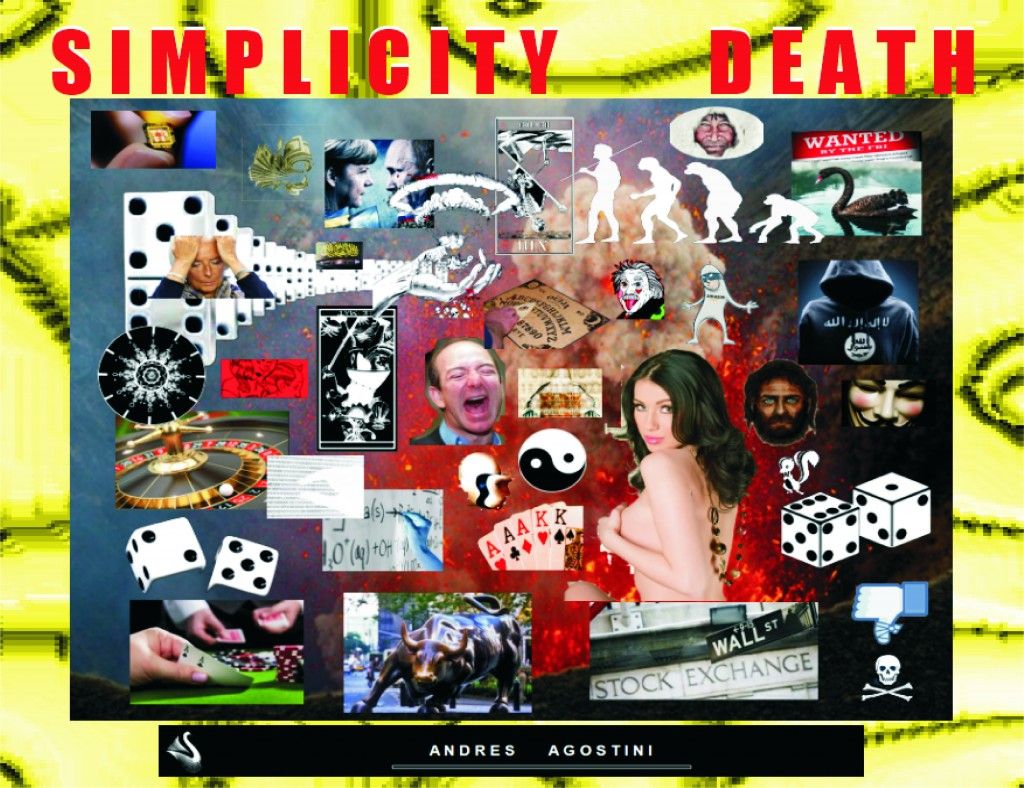 (PLEASE PAY ATTENTION TO THIS SUBJECT MATTER AS IT WOULD BE AMPLIFIED IN FUTURE NEW ARTICLES UNDER THE SAME TITLE).
I will give you some considerations excerpted from the White Swan book ( ASIN: B00KMY0DLK ) to show that Simplicity, via Technological, Social, Political, Geopolitical, and Economic Changes, is OUTRIGHT OBSOLETE and there is now ONLY: COMPLEXITY AND THE POWER OF COMPLEXITY.
THEREFORE:
FOR EXAMPLE # 1. PLEASE SEE THIS:
PHENOMENA HAPPENING NOW:
The Death Of Distance
The Death Of Permanence
The Death Of Stability
The Death Of Analogue
The Death Of Linearity
The Death Of Simplicity
The Death Of Arithmetic
The Death Of Foresought
The Death Of Forewarning
And a long so forth.
ALSO:
FOR EXAMPLE # 2. PLEASE SEE THIS:
(LET US FORGET ABOUT RUSSIA, CHINA, ISIS, EXPONENTIAL TECHNOLOGIES AND EXTREME GEOPOLITCS FOR A WHILE AND CHECK OUT THE MORE EVIDENT FOREGROUNG TAKING PLACE).
FIRST. THE OIL PRICES GO DOWN.
SECOND. THE WORLD ORDER FUNDAMENTALLY CHANGES INTO UNKNOWNS.
THIRD. GLOBAL ECONOMY IS MORE A LONG THE LINES OF THE WORSEN GREAT DEPRESSION OR EVEN WORSE. SOVEREIGN DEBTS IN THE DEVELOPED WORLD COULD NOT BE MORE OFFENSIVE. ALL GLOBAL RESERVE CURRENCY, PERHAPS, JUST PERHAPS, MAY END UP WORTHLESS. BEFORE THIS HAPPENS, REMEMBER THAT CENTRAL BANKERS ARE PRINTING WORTHLESS MONEY AND FURTHER DEVALUATING IT WHILE STOCK BANKERS AND TRADERS ARE OVER-DOCTORING THE ALGORITHMS THAT REGULATE STOCK MARKETS.
FOURTH. STRUCTURAL AND OUTRIGHT UNIVERSAL UNEMPLOYMENT HAWKISGHLY RULE, ALSO AS A CONSEQUENCE OF PERVASIVE COMPUTING, AUTOMATION, ROBOTICS, AND STRONG ARTIFICIAL INTELLIGENCE.
FIFTH. PETTY WARS AND MANY REVOLUTIONS AND UPRISINGS ALL OVER THE PLACE AND LARGE INTRACTABLE WARS EMERGE.
AND:
FOR EXAMPLE # 3. PLEASE SEE THIS:
(REMEMBER IF AT WAGING CONVENTIONAL WARS, HI-TECH AND HARD SCIENCE WILL BE INFINETLY MORE AMPLIFIED, THAT IS: AT A GROWTH RATE BEYOND EXPONENTIAL):
Please see the following:
"… BEGINNING WITH THE AMOUNT OF KNOWLEDGE IN THE KNOWN WORLD AT THE TIME OF CHRIST, STUDIES HAVE ESTIMATED THAT THE FIRST DOUBLING OF THAT KNOWLEDGE TOOK PLACE ABOUT 1700 A.D. THE SECOND DOUBLING OCCURRED AROUND THE YEAR 1900. IT IS ESTIMATED TODAY THAT THE WORLD'S KNOWLEDGE BASE WILL DOUBLE AGAIN BY 2010 AND AGAIN AFTER THAT BY 2013 …"
AND TO UNDERPIN THE PRECEDING PARAGRAPH, LET US ALSO CONSIDER THE WORDS OF BILL GATES:
On Mar 24, 1999 Microsoft Chairman, and today's smartest and wealthiest person, gave, in hard writing (ISBN: 978–0446525688), a pervasive forewarning that 96.357% of the people, with their intrinsically and un-salvageably linear and unprepared minds, utterly ignored.
This is the verbatim forewarning:
" … We always overestimate the change that will occur in the next two years [2001] and underestimate the change that will occur in the next ten [2011] …" — Bill Gates. Brackets by the Author.
Thereby, let us continue with the White Swan Preface.
New applied knowledge, new science and new technologies are going to change ("…creatively-disrupt…") it all (along with omnipresent trade and automation) right now, including every industry in the marketplace.
And subsequently, every industry's manager and hence management beginning time immemorial.
To give the reader a meaningful view on the proceeding, Stanford University, by way of example, observes,
"…The ubiquity and variability of organizations means there is ample room for complexity and confusion in the organizational challenges we regularly face …"
AS WE ALL DISTINGUISH THAT NOVEL KNOWLEDGE IS SIGNIFICANTLY AND DIRECTLY AFFECTING THE MANAGEMENT PROFESSION, PLEASE SEE THEN HEREBY WHAT IS EXACTLY HAPPENING TO SCIENTIFIC PROGRESSION AND TECHNOLOGICAL KNOWLEDGE TODAY:
(The White Swan POV will resume thereafter).
BEGINNING OF THE CITATION:
1.-) "…HUMAN KNOWLEDGE IS DOUBLING EVERY TEN YEARS [AS PER THE 1998 STANDARDS]…" [226]
2.-) "…COMPUTER POWER IS DOUBLING EVERY EIGHTEEN MONTHS. THE INTERNET IS DOUBLING EVERY YEAR. THE NUMBER OF DNA SEQUENCES WE CAN ANALYZE IS DOUBLING EVERY TWO YEARS…" [226]
3.-) "… BEGINNING WITH THE AMOUNT OF KNOWLEDGE IN THE KNOWN WORLD AT THE TIME OF CHRIST, STUDIES HAVE ESTIMATED THAT THE FIRST DOUBLING OF THAT KNOWLEDGE TOOK PLACE ABOUT 1700 A.D. THE SECOND DOUBLING OCCURRED AROUND THE YEAR 1900. IT IS ESTIMATED TODAY THAT THE WORLD'S KNOWLEDGE BASE WILL DOUBLE AGAIN BY 2010 AND AGAIN AFTER THAT BY 2013 …" [226]
4.- ) "…KNOWLEDGE IS DOUBLING BY EVERY FOURTEEN MONTHS…" [226]
5.-) "…MORE THAN THE DOUBLING OF COMPUTATIONAL POWER [IS TAKING PLACE] EVERY YEAR…" [226]
6.-) "…The flattening of the world is going to be hugely disruptive to both traditional and developed societies. The weak will fall further behind faster. The traditional will feel the force of modernization much more profoundly. The new will get turned into old quicker. The developed will be challenged by the underdeveloped much more profoundly. I worry, because so much political stability is built on economic stability, and economic stability is not going to be a feature of the flat world. Add it all up and you can see that the disruptions and going to come faster and harder. No one is immune — not me, not you, not Microsoft. WE ARE ENTERING AN ERA OF CREATIVE DESTRUCTION ON STEROIDS. Dealing with flatism is going to be a challenge of a whole new dimension even if your country has a strategy. But if you don't have a strategy at all, well, again, you've warned…" [226]
7.-) "…By the end of the twentieth century, science had reached the end of an era, unlocking the secrets of the atom, unraveling the molecule of life, and creating the electronic computer. With these three fundamental discoveries, triggered by the quantum revolution, the DNA revolution, and the computer revolution, the basic laws of matter, life, and computation were, in the main, finally solved [….] That epic phase of science is now drawing to a close; one era is ending and another is only beginning [….] The next era of science promises to be an even deeper, more thoroughgoing, more penetrating one than the last [….] Clearly, we are on the threshold of yet another revolution. HUMAN KNOWLEDGE IS DOUBLING EVERY TEN YEARS [AS PER THE 1998 STANDARDS]. In the past decade, more scientific knowledge has been created than in all of human history. COMPUTER POWER IS DOUBLING EVERY EIGHTEEN MONTHS. THE INTERNET IS DOUBLING EVERY YEAR. THE NUMBER OF DNA SEQUENCES WE CAN ANALYZE IS DOUBLING EVERY TWO YEARS …" Brackets are of the author.
ATTENTION: REPEATED DOUBLING MAKES THINGS VERY BIG, VERY FAST. TWENTY DOUBLINGS YIELD ABOUT A MILLIONFOLD INCREASE.
And 7.-) above continues here:
"… Almost daily, the headlines herald new advances in computers, telecommunications, biotechnology, and space exploration. In the wake of this technological upheaval, entire industries and lifestyles are being overturned, only to give rise to entirely new ones. But these rapid, bewildering changes are not just quantitative. They mark the birth pangs of a new era [….] FROM NOW TO THE YEAR 2020, SCIENTISTS FORESEE AN EXPLOSION IN SCIENTIFIC ACTIVITY SUCH AS THE WORLD HAS NEVER SEEN BEFORE. IN TWO KEY TECHNOLOGIES, COMPUTER POWER AND THE DNA SEQUENCING, WE WILL SEE ENTIRE INDUSTRIES RISE AND FALL ON THE BASIS OF BREATHTAKING SCIENTIFIC ADVANCES. SINCE THE 1950S, THE POWER OF OUR COMPUTERS HAS ADVANCED BY A FACTOR OF ROUGHLY TEN BILLION. IN FACT, BECAUSE BOTH COMPUTER POWER AND DNA SEQUENCING DOUBLE ROUGHLY EVERY TWO YEARS, ONE CAN COMPUTE THE ROUGH TIME FRAME OVER WHICH MANY SCIENTIFIC BREAKTHROUGHS WILL TAKE PLACE … "
And 7.-) above continues here:
" … BY 2020, MICROPROCESSORS WILL LIKELY BE AS A CHEAP AND PLENTIFUL AS SCRAP PAPER, SCATTERED BY THE MILLIONS INTO ENVIRONMENT, ALLOWING US TO PLACE INTELLIGENT SYSTEMS EVERYWHERE. THIS WILL CHANGE EVERYTHING AROUND US, INCLUDING THE NATURE OF COMMERCE, THE WEALTH OF NATIONS, AND THE WAY WE COMMUNICATE, WORK, PLAY, AND LIVE … " [226]
8.-) "… The knowledge revolution is taking place in small, sharply defined areas. One company generates more U.S. patents than 139 countries do together … This [revolution] generates new EMPIRES and new ghettos [….] It slams into existing systems and destroys them while creating new systems. Countries and individuals can either surf new and powerful waves of change — or try to stop them and get crushed …" [226]
9.-) "… Nanotechnologies are broad concept, it's simply refers to technology where the key features in measuring the small number of nanometers. A NANOMETER IS THE DIAMETER OF FIVE CARBON ATOMS SO IT'S VERY CLOSE TO THE MOLECULAR LEVEL AND WE ALREADY HAVE NEW MATERIALS AND DEVICES THAT HAD BEEN MANUFACTURED AT THE NANOSCALE. IN FACT, CHIPS TODAY, THE KEY FEATURES ARE 50 OR 60 NANOMETERS SO THAT IS ALREADY NANOTECHNOLOGY. The true promise of nanotechnology is that ultimately we'll be able to create devices that are manufactured at the molecular level by putting together, molecular fragments in new combinations so, I can send you an information file and a desktop nanofactory will assemble molecules according to the definition in the file and create a physical objects so I can e-mail you a pair of trousers or a module to build housing or a solar panel and WE'LL BE ABLE TO CREATE JUST ABOUT ANYTHING WE NEED IN THE PHYSICAL WORLD FROM INFORMATION FILES WITH VERY INEXPENSIVE INPUT MATERIALS. You can… I mean, just a few years ago if I wanted to send you a movie or a book or a recorded album, I would send you a FedEx package, now I can e-mail you an attachment and you can create a movie or a book from that …"
And 9.-) above continues here:
" … On the future, I'll be able to e-mail you a blouse or a meal. So, that's the promise of nanotechnology. Another promise is to be able to create devices that are size of blood cells and by the way biology is an example of nanotechnology, the key features of biology are at the molecular level. SO, THAT'S ACTUALLY THE EXISTENCE PROOF THAT NANOTECHNOLOGY IS FEASIBLE BUT BIOLOGY IS BASED ON LIMITED SIDE OF MATERIALS. EVERYTHING IS BUILT OUT OF PROTEINS AND THAT'S A LIMITED CLASS OF SUBSTANCES. WITH NANOTECHNOLOGY WE CAN CREATE THINGS THAT ARE FAR MORE DURABLE AND FAR MORE POWERFUL. One scientist designed a robotic red blood cell it's a thousand times more powerful than the biological version so, if you were to replace a portion of your biological red blood cells with this respirocytes the robotic versions. You could do an Olympic sprint for 15 minutes without taking a breath or sit at the bottom of your pool for 4 hours …"
And 9.-) above continues here:
" … If I were to say someday you'll have millions or even billions of these nanobots, nano-robots, blood cell size devices going through your body and keeping you healthy from inside, I might think well, that sounds awfully futuristic. I'd point out this already in 50 experiments in animals of doing exactly that with the first generation of nano engineered blood cell size devices. One scientist cured type-1 diabetes in rats with the blood cell size device. Seven nanometer pores let's insulin out in the controlled fashion. At MIT, there's a blood cell size device that can detect and destroy cancer cells in the bloodstream. These are early experiments but KEEP IN MIND THAT BECAUSE OF THE EXPONENTIAL PROGRESSION OF THIS TECHNOLOGY, THESE TECHNOLOGIES WILL BE A BILLION TIMES MORE POWERFUL IN 25 YEARS AND YOU GET SOME IDEA WHAT WILL BE FEASIBLE …" [226]
BEFORE GOING AHEAD TO CITATION "10.-)", LET US CONSIDER THIS CITATION ON TECHNOLOGY:
" … Kevin Kelly, for instance, convincingly portrays technology as a partner in human evolution. In his book What Technology Want [ISBN: 978–0143120179], he makes the case that technology is emerging as the 'seventh kingdom of life on Earth' — along with plants, insects, fungi, and so on … KELLY ALSO HOLDS THAT TECHNOLOGY'S GROWTH AND DEVELOPMENT IS INEVITABLE, EVEN DESIRABLE. YES, CERTAIN TECHNOLOGIES CREATE PROBLEMS, but that just opens the opportunity for yet another technology to mitigate the bad. Isn't that just and endless loop of negative and positive outcomes, in which humanity is eventually frayed beyond repair? Kelly disagrees: « … I DON'T THINK TECHNOLOGY IS NEUTRAL OR A WASH OF GOOD AND BAD EFFECTS. TO BE SURE IT DOES PRODUCE BOTH PROBLEMS AND SOLUTIONS, BUT THE CHIEF EFFECT IS THAT IT PRODUCES MORE POSSIBILITIES. MORE OPTIONS. MORE FREEDOM, ESSENTIALLY. THAT'S REALLY GOOD. THAT IS THE REASON WHY PEOPLE MOVE TO CITIES — FOR MORE CHOICES … » [….] Where it gets discomfiting, however, is when Kelly insists on technology's all-consuming nature. ' … It is an ever-elaborate tool that we wield and continually update to improve our world; and it is an ever-ripening superorganism, of which we are but a part, that is following a direction beyond our own making. Humans are both master and slave to the techium [his word for the technological universe], and our fate is to remain in this uncomfortable dual role …' [….] There is no way back, only through. Kelly admonishes us to '… align ourselves with the imperative of the technium …' because to do otherwise would be to ' … resist our second self …' [….] Humanity and technology — like humanity and the zombies — are ultimately indistinguishable. ' … The conflict that the technium triggers in our hearts is due to our refusal to accept our nature — the truth is that we are continuous with the machines we create … When we reject technology as a whole, it a brand of self-hatred …' [….] But isn't the acceptance of humanity as a component part of technology also a form of self-hatred? KELLY SEES A SINGLE THREAD OF SELF-GENERATION TYING TOGETHER THE COSMOS, THE BIOS, AND THE TECHNOS INTO ONE ACT OF CREATION. ' … HUMANS ARE NOT THE CULMINATION OF THIS TRAJECTORY BUT AN INTERMEDIARY, SMACK IN THE MIDDLE BETWEEN THE BORN AND THE MADE …' [….] WE MUST EITHER ACCEPT TECHNOLOGY AS OUR INEVITABLE OFFSPRING AND SUCCESSOR, OR ' … REJECT TECHNOLOGY AS A WHOLE …' [….] In Kelly's schema, there is no sustainable happy medium. Isn't there the possibility for a less dramatic, less apocalyptic middle ground? …" [252] Brackets are of the Author.
NOW, LET US CONTINUE WITH CITATION NUMBER "10.-)":
10.-) "…The world has profoundly changed [….] The challenges and complexity we face in our personal lives and relationships, in our families, in our professional lives, and in our organizations are of a different order of magnitude. In fact, many mark 1989 — the year we witnessed the fall of the Berlin Wall — as the beginning of the Information Age, the birth of a new reality, a sea change of incredible significance — truly a new era — Being effective as individuals and organizations is no longer merely an option — survival in today's world requires it. But, in order to thrive, innovate, excel, and lead in what Covey calls the new Knowledge Worker Age, we must build on and move beyond effectiveness [long-held assumptions, fallacies, falsehoods and flawed beliefs and faulty conventions]…Hence, accessing the higher levels of human genius and motivation in today's new reality REQUIRES A SEA CHANGE IN THINKING: a new mind-sets, a new skill-set, a new tool-set — in short, a whole new habit…" [226] Brackets are of the author.
Back to the SIMPLICITY END hardcore:
AS WELL, SO IMPORTANT:
When dealing with an ample-conception of "…System…", IF YOU FIND THERE SIMPLICITY, IT IS BECAUSE YOUR THOUGHT PROCESS IS FLAWED AND INCOMPLETE. And the reader might as well not be understanding the underlying processes to the corresponding thought process.
AND, FOR INSTANCE:
Complication and complexity are nonlinear (In S-Curves) blessings when you have endowed your mind with preparedness, in order to deal with and through them.
Back to the SIMPLICITY END hardcore:
SINE QUA NON:
Common sense is radically replaced by APPLIED SCIENTIFIC KNOWLEDGE.
So called "…out of the box…" thinking is impious and outrageous mediocrity by the 21st-century standards and practices.
"…Out of the box…" thinking will bankrupt you or your government easily and without a fail.
AND THE "…POWER OF SIMPLICITY…," unless it is applied by a consummated polymath, is a chat about rubbish.
WE LIVE IN A WORLD IN WHICH THE POWER OF COMPLEXITY, RANDOMNESS AND PSEUDO-RANDOMNESS RULES DICTATORIALLY. PSEUDO-SERENDIPITY, INFINITELY MORE THAN PLAIN-VANILLA SERENDIPITY, IS A SELF-INFLICTED RULER BY AN EQUIVALENT TO THE TUDOR FAMILY.
MANAGING IS AN ART, PRACTICE, METHODOLOGY, TECHNOLOGY AND HARD SCIENCE.
ALSO:
To give the reader a meaningful view on the proceeding, Stanford University, by way of example, observes,
"…The ubiquity and variability of organizations means there is AMPLE ROOM FOR COMPLEXITY AND CONFUSION in the organizational challenges we regularly face …"
FOR EXAMPLE # 4. PLEASE SEE THIS:
"…The world has profoundly changed [….] The challenges and complexity we face in our personal lives and relationships, in our families, in our professional lives, and in our organizations are of a different order of magnitude. In fact, many mark 1989 — the year we witnessed the fall of the Berlin Wall — as the beginning of the Information Age, the birth of a new reality, a sea change of incredible significance — truly a new era — Being effective as individuals and organizations is no longer merely an option — survival in today's world requires it. But, in order to thrive, innovate, excel, and lead in what Covey calls the new Knowledge Worker Age, we must build on and move beyond effectiveness [long-held assumptions, fallacies, falsehoods and flawed beliefs and faulty conventions]…Hence, accessing the higher levels of human genius and motivation in today's new reality REQUIRES A SEA CHANGE IN THINKING: a new mind-sets, a new skill-set, a new tool-set — in short, a whole new habit…" [226] Brackets are of the author.
FOR EXAMPLE # 5. PLEASE SEE THIS:
" … How do we know that change is accelerating? There is, after all, no absolute way to measure change. In the awesome complexity of the universe, even within any given society, a virtually infinite number of streams of change occur simultaneously. All 'things'—from the tiniest virus to the greatest galaxy—are, in reality, not things at all, but processes. There is no static point, no nirvana-like un-change, against which to measure change. Change is, therefore, necessarily relative [….] It is also uneven. If all processes occurred at the same speed, or even if they accelerated or decelerated in unison, it would be impossible to observe change. The future, however, invades the present at differing speeds. Thus it becomes possible to compare the speed of different processes as they unfold. We know, for example, that compared with the biological evolution of the species, cultural and social evolution is extremely rapid. We know that some societies transform themselves technologically or economically more rapidly than others. We also know that different sectors within the same society exhibit different rates of change—the disparity that William Ogburn labeled 'cultural lag.' It is precisely the unevenness of change that makes it measurable [….] We need, however, a yardstick that makes it possible to compare highly diverse processes, and this yardstick is time. Without time, change has no meaning. And without change, time would stop. Time can be conceived as the intervals during which events occur. Just as money permits us to place a value on both apples and oranges, time permits us to compare unlike processes. When we say that it takes three years to build a dam, we are really saying it takes three times as long as it takes the earth to circle the sun or 31,000,000 times as long as it takes to sharpen a pencil. Time is the currency of exchange that makes it possible to compare the rates at which very different processes play themselves out [….] Given the unevenness of change and armed with this yardstick, we still face exhausting difficulties in measuring change. When we speak of the rate of change, we refer to the number of events crowded into an arbitrarily fixed interval of time. Thus we need to define the 'events.' We need to select our intervals with precision. We need to be careful about the conclusions we draw from the differences we observe. Moreover, in the measurement of change, we are today far more advanced with respect to physical processes than social processes. We know far better, for example, how to measure the rate at which blood flows through the body than the rate at which a rumor flows through society. Even with all these qualifications, however, there is widespread agreement, reaching from historians and archaeologists all across the spectrum to scientists, sociologists, economists and psychologists, that, many social processes are speeding up—strikingly, even spectacularly [….] Painting with the broadest of brush strokes, biologist Julian Huxley informs us that 'The tempo of human evolution during recorded history is at least 100,000 times as rapid as that of pre-human evolution.' Inventions or improvements of a magnitude that took perhaps 50,000 years to accomplish during the early Paleolithic era were, he says, 'run through in a mere millennium toward its close; and with the advent of settled civilization, the unit of change soon became reduced to the century.' The rate of change, accelerating throughout the past 5,000 years, has become, in his words, 'particularly noticeable during the past 300 years.' C. P. Snow, the novelist and scientist, also comments on the new visibility of change. 'Until this century …' he writes, social change was 'so slow, that it would pass unnoticed in one person's lifetime. That is no longer so. The rate of change has increased so much that our imagination can't keep up.' Indeed, says social psychologist Warren Bennis, the throttle has been pushed so far forward in recent years that 'No exaggeration, no hyperbole, no outrage can realistically describe the extent and pace of change.… In fact, only the exaggerations appear to be true.' [….] What changes justify such super-charged language? Let us look at a few—change in the process by which man forms cities, for example. We are now undergoing the most extensive and rapid urbanization the world has ever seen. In 1850 only four cities on the face of the earth had a population of 1,000,000 or more. By 1900 the number had increased to nineteen. But by 1960, there were 141, and today world urban population is rocketing upward at a rate of 6.5 percent per year, according to Edgar de Vries and J. P. Thysse of the Institute of Social Science in The Hague. THIS SINGLE STARK STATISTIC MEANS A DOUBLING OF THE EARTH'S URBAN POPULATION WITHIN ELEVEN YEARS [….] One way to grasp the meaning of change on so phenomenal a scale is to imagine what would happen if all existing cities, instead of expanding, retained their present size. If this were so, in order to accommodate the new urban millions we would have to build a duplicate city for each of the hundreds that already dot the globe. A new Tokyo, a new Hamburg, a new Rome and Rangoon—and all within eleven years. (This explains why French urban planners are sketching subterranean cities—stores, museums, warehouses and factories to be built under the earth, and why a Japanese architect has blueprinted a city to be built on stiltsout over the ocean.) [….] The same accelerative tendency is instantly apparent in man's consumption of energy. Dr. Homi Bhabha, the late Indian atomic scientist who chaired the first International Conference on the Peaceful Uses of Atomic Energy, once analyzed this trend. 'To illustrate,' he said, 'let us use the letter 'Q' to stand for the energy derived from burning some 33,000 million tons of coal. In the eighteen and one half centuries after Christ, the total energy consumed averaged less than one half Q per century. But by 1850, the rate had risen to one Q per century. Today, the rate is about ten Q per century.' This means, roughly speaking, that half of all the energy consumed by man in the past 2,000 years has been consumed in the last one hundred [….] WHAT SUCH NUMBERS IMPLY IS NOTHING LESS REVOLUTIONARY THAN A DOUBLING OF THE TOTAL OUTPUT OF GOODS AND SERVICES IN THE ADVANCED SOCIETIES ABOUT EVERY FIFTEEN YEARS—AND THE DOUBLING TIMES ARE SHRINKING. This means, generally speaking, that the child reaching teen age in any of these societies is literally surrounded by twice as much of everything newly manmade as his parents were at the time he was an infant. It means that by the time today's teenager reaches age thirty, perhaps earlier, a second doubling will have occurred. WITHIN A SEVENTY-YEAR LIFETIME, PERHAPS FIVE SUCH DOUBLINGS WILL TAKE PLACE—MEANING, SINCE THE INCREASES ARE COMPOUNDED, THAT BY THE TIME THE INDIVIDUAL REACHES OLD AGE THE SOCIETY AROUND HIM WILL BE PRODUCING THIRTY-TWO TIMES AS MUCH AS WHEN HE WAS BORN [….] Such changes in the ratio between old and new have, as we shall show, an electric impact on the habits, beliefs, and self-image of millions. Never in previous history has this ratio been transformed so radically in so brief a flick of time [….] Behind such prodigious economic facts lies that great, growling engine of change— technology. This is not to say that technology is the only source of change in society. Social upheavals can be touched off by a change in the chemical composition of the atmosphere, by alterations in climate, by changes in fertility, and many other factors. Yet technology is indisputably a major force behind the accelerative thrust [….] To most people, the term technology conjures up images of smoky steel mills or clanking machines. Perhaps the classic symbol of technology is still the assembly line created by Henry Ford half a century ago and made into a potent social icon by Charlie Chaplin in Modern Times. This symbol, however, has always been inadequate, indeed, misleading, for technology has always been more than factories and machines. The invention of the horse collar in the middle ages led to major changes in agricultural methods and was as much a technological advance as the invention of the Bessemer furnace centuries later. Moreover, technology includes techniques, as well as the machines that may or may not be necessary to apply them. It includes ways to make chemical reactions occur, ways to breed fish, plant forests, light theaters, count votes or teach history [….] The old symbols of technology are even more misleading today, when the most advanced technological processes are carried out far from assembly lines or open hearths. Indeed, in electronics, in space technology, in most of the new industries, relative silence and clean surroundings are characteristic—even sometimes essential. And the assembly line—the organization of armies of men to carry out simple repetitive functions—is an anachronism. It is time for our symbols of technology to change—to catch up with the quickening changes in technology, itself [….] This acceleration is frequently dramatized by a thumbnail account of the progress in transportation. It has been pointed out, for example, that in 6000 B.C. the fastest transportation available to man over long distances was the camel caravan, averaging eight miles per hour. It was not until about 1600 B.C. when the chariot was invented that the maximum speed was raised to roughly twenty miles per hour. So impressive was this invention, so difficult was it to exceed this speed limit, that nearly 3,500 years later, when the first mail coach began operating in England in 1784, it averaged a mere ten mph. The first steam locomotive, introduced in 1825, could muster a top speed of only thirteen mph, and the great sailing ships of the time labored along at less than half that speed. It was probably not until the 1880's that man, with the help of a more advanced steam locomotive, managed to reach a speed of one hundred mph. It took the human race millions of years to attain that record [….] It took only fifty-eight years, however, to quadruple the limit, so that by 1938 airborne man was cracking the 400-mph line. It took a mere twenty-year flick of time to double the limit again. And by the 1960's rocket planes approached speeds of 4000 mph, and men in space capsules were circling the earth at 18,000 mph. Plotted on a graph, the line representing progress in the past generation would leap vertically off the page [….] Whether we examine distances traveled, altitudes reached, minerals mined, or explosive power harnessed, the same accelerative trend is obvious. The pattern, here and in a thousand other statistical series, is absolutely clear and unmistakable. Millennia or centuries go by, and then, in our own times, a sudden bursting of the limits, a fantastic spurt forward. The reason for this is that technology feeds on itself. Technology makes more technology possible, as we can see if we look for a moment at the process of innovation. Technological innovation consists of three stages, linked together into a self-reinforcing cycle. First, there is the creative, feasible idea. Second, its practical application. Third, its diffusion through society [….] The process is completed, the loop closed, when the diffusion of technology embodying the new idea, in turn, helps generate new creative ideas. Today there is evidence that the time between each of the steps in this cycle has been shortened. Thus it is not merely true, as frequently noted, that 90 percent of all the scientists who ever lived are now alive, and that new scientific discoveries are being made every day. These new ideas are put to work much more quickly than ever before. The time between original concept and practical use has been radically reduced. This is a striking difference between ourselves and our ancestors. Appollonius of Perga discovered conic sections, but it was 2000 years before they were applied to engineering problems. It was literally centuries between the time Paracelsus discovered that ether could be used as an anaesthetic and the time it began to be used for that purpose [….] Even in more recent times the same pattern of delay was present. In 1836 a machine was invented that mowed, threshed, tied straw into sheaves and poured grain into sacks. This machine was itself based on technology at least twenty years old at the time. Yet it was not until a century later, in the 1930's, that such a combine was actually marketed. The first English patent for a typewriter was issued in 1714. But a century and a half elapsed before typewriters became commercially available. A full century passed between the time Nicholas Appert discovered how to can food and the time canning became important in the food industry [….] Today such delays between idea and application are almost unthinkable. It is not that we are more eager or less lazy than our ancestors, but we have, with the passage of time, invented all sorts of social devices to hasten the process. Thus we find that the time between the first and second stages of the innovative cycle—between idea and application—has been cut radically. Frank Lynn, for example, in studying twenty major innovations, such as frozen food, antibiotics, integrated circuits and synthetic leather, found that since the beginning of this century more than sixty percent has been slashed from the average time needed for a major scientific discovery to be translated into a useful technological form. Today a vast and growing research and development industry is consciously working to reduce the lag still further [….] But if it takes less time to bring a new idea to the marketplace, it also takes less time for it to sweep through the society. Thus the interval between the second and third stages of the cycle—between application and diffusion—has likewise been sliced, and the pace of diffusion is rising with astonishing speed. This is borne out by the history of several familiar household appliances. Robert B. Young at the Stanford Research Institute has studied the span of time between the first commercial appearance of a new electrical appliance and the time the industry manufacturing it reaches peak production of the item [….] Young found that for a group of appliances introduced in the United States before 1920—including the vacuum cleaner, the electric range, and the refrigerator—the average span between introduction and peak production was thirty-four years. But for a group that appeared in the 1939–1959 period—including the electric frying pan, television, and washerdryer combination—the span was only eight years. The lag had shrunk by more than 76 percent. 'The post-war group,' Young declared, 'demonstrated vividly the rapidly accelerating nature of the modern cycle.' [….] The stepped-up pace of invention, exploitation, and diffusion, in turn, accelerates the whole cycle still further. For new machines or techniques are not merely a product, but a source, of fresh creative ideas [….] Each new machine or technique, in a sense, changes all existing machines and techniques, by permitting us to put them together into new combinations. The number of possible combinations rises exponentially as the number of new machines or techniques rises arithmetically. Indeed, each new combination may, itself, be regarded as a new supermachine [….] The computer, for example, made possible a sophisticated space effort. Linked with sensing devices, communications equipment, and power sources, the computer became part of a configuration that in aggregate forms a single new super-machine—a machine for reaching into and probing outer space. But for machines or techniques to be combined in new ways, they have to be altered, adapted, refined or otherwise changed. So that the very effort to integrate machines into super-machines compels us to make still further technological innovations [….] It is vital to understand, moreover, that technological innovation does not merely combine and recombine machines and techniques. Important new machines do more than suggest or compel changes in other machines—they suggest novel solutions to social, philosophical, even personal problems. They alter man's total intellectual environment—the way he thinks and looks at the world [….] We all learn from our environment, scanning it constantly—though perhaps unconsciously—for models to emulate. These models are not only other people. They are, increasingly, machines. By their presence, we are subtly conditioned to think along certain lines. It has been observed, for example, that the clock came along before the Newtonian image of the world as a great clock-like mechanism, a philosophical notion that has had the utmost impact on man's intellectual development. Implied in this image of the cosmos as a great clock were ideas about cause and effect and about the importance of external, as against internal, stimuli, that shape the everyday behavior of all of us today. The clock also affected our conception of time so that the idea that a day is divided into twenty-four equal segments of sixty minutes each has become almost literally a part of us [….] Recently, the computer has touched off a storm of fresh ideas about man as an interacting part of larger systems, about his physiology, the way he learns, the way he remembers, the way he makes decisions. Virtually every intellectual discipline from political science to family psychology has been hit by a wave of imaginative hypotheses triggered by the invention and diffusion of the computer—and its full impact has not yet struck. And so the innovative cycle, feeding on itself, speeds up. If technology, however, is to be regarded as a great engine, a mighty accelerator, then knowledge must be regarded as its fuel. And we thus come to the crux of the accelerative process in society, for the engine is being fed a richer and richer fuel every day [….] The rate at which man has been storing up useful knowledge about himself and the universe has been spiraling upward for 10,000 years. The rate took a sharp upward leap with the invention of writing, but even so it remained painfully slow over centuries of time. The next great leap forward in knowledge—acquisition did not occur until the invention of movable type in the fifteenth century by Gutenberg and others. Prior to 1500, by the most optimistic estimates, Europe was producing books at a rate of 1000 titles per year. This means, give or take a bit, that it would take a full century to produce a library of 100,000 titles. By 1950, four and a half centuries later, the rate had accelerated so sharply that Europe was producing 120,000 titles a year. What once took a century now took only ten months. By 1960, a single decade later, the rate had made another significant jump, so that a century's work could be completed in seven and a half months. And, by the mid-sixties, the output of books on a world scale, Europe included, approached the prodigious figure of 1000 titles per day [….] One can hardly argue that every book is a net gain for the advancement of knowledge. Nevertheless, we find that the accelerative curve in book publication does, in fact, crudely parallel the rate at which man discovered new knowledge. For example, prior to Gutenberg only 11 chemical elements were known. Antimony, the 12th, was discovered at about the time he was working on his invention. It was fully 200 years since the 11th, arsenic, had been discovered. Had the same rate of discovery continued, we would by now have added only two or three additional elements to the periodic table since Gutenberg. Instead, in the 450 years after his time, some seventy additional elements were discovered. And since 1900 we have been isolating the remaining elements not at a rate of one every two centuries, but of one every three years [….] Furthermore, there is reason to believe that the rate is still rising sharply. TODAY, FOR EXAMPLE, THE NUMBER OF SCIENTIFIC JOURNALS AND ARTICLES IS DOUBLING, like industrial production in the advanced countries, about every fifteen years, and according to biochemist Philip Siekevitz, 'what has been learned in the last three decades about the nature of living beings dwarfs in extent of knowledge any comparable period of scientific discovery in the history of mankind.' Today the United States government alone generates 100,000 reports each year, plus 450,000 articles, books and papers. On a worldwide basis, scientific and technical literature mounts at a rate of some 60,000,000 pages a year [….] The computer burst upon the scene around 1950. With its unprecedented power for analysis and dissemination of extremely varied kinds of data in unbelievable quantities and at mind-staggering speeds, it has become a major force behind the latest acceleration in knowledge-acquisition. Combined with other increasingly powerful analytical tools for observing the invisible universe around us, it has raised the rate of knowledge-acquisition to dumbfounding speeds. Francis Bacon told us that 'Knowledge … is power.' This can now be translated into contemporary terms. In our social setting, 'Knowledge is change'—and accelerating knowledge-acquisition, fueling the great engine of technology, means accelerating change [….] Discovery. Application. Impact. Discovery. We see here a chain reaction of change, a long, sharply rising curve of acceleration in human social development. This accelerative thrust has now reached a level at which it can no longer, by any stretch of the imagination, be regarded as 'normal.' The normal institutions of industrial society can no longer contain it, and its impact is shaking up all our social institutions. Acceleration is one of the most important and least understood of all social forces. This, however, is only half the story. For the speed-up of change is a psychological force as well. Although it has been almost totally ignored by psychology, the rising rate of change in the world around us disturbs our inner equilibrium, altering the very way in which we experience life. Acceleration without translates into acceleration within [….] This can be illustrated, though in a highly oversimplified fashion, if we think of an individual life as a great channel through which experience flows. This flow of experience consists—or is conceived of consisting—of innumerable 'situations.' Acceleration of change in the surrounding society drastically alters the flow of situations through this channel [….] There is no neat definition of a situation, yet we would find it impossible to cope with experience if we did not mentally cut it up into these manageable units. Moreover, while the boundary lines between situations may be indistinct, every situation has a certain 'wholeness' about it, a certain integration. Every situation also has certain identifiable components. These include 'things'—a physical setting of natural or man-made objects [….] Every situation occurs in a 'place'—a location or arena within which the action occurs. (It is not accidental that the Latin root 'situ' means place.) Every social situation also has, by definition, a cast of characters—people. Situations also involve a location in the organizational network of society and a context of ideas or information. Any situation can be analyzed in terms of these five components [….] But situations also involve a separate dimension which, because it cuts across all the others, is frequently overlooked. This is duration—the span of time over which the situation occurs. Two situations alike in all other respects are not the same at all if one lasts longer than another. For time enters into the mix in a crucial way, changing the meaning or content of situations. Just as the funeral march played at too high a speed becomes a merry tinkle of sounds, so a situation that is dragged out has a distinctly different flavor or meaning than one that strikes us in staccato fashion, erupting suddenly and subsiding as quickly [….] Here, then, is the first delicate point at which the accelerative thrust in the larger society crashes up against the ordinary daily experience of the contemporary individual. For the acceleration of change, as we shall show, shortens the duration of many situations. This not only drastically alters their 'flavor,' but hastens their passage through the experiential channel. Compared with life in a less rapidly changing society, more situations now flow through the channel in any given interval of time—and this implies profound changes in human psychology [….] For while we tend to focus on only one situation at a time, the increased rate at which situations flow past us vastly complicates the entire structure of life, multiplying the number of roles we must play and the number of choices we are forced to make. This, in turn, accounts for the choking sense of complexity about contemporary life [….] Moreover, the speeded-up flow-through of situations demands much more work from the complex focusing mechanisms by which we shift our attention from one situation to another. There is more switching back and forth, less time for extended, peaceful attention to one problem or situation at a time. This is what lies behind the vague feeling noted earlier that 'Things are moving faster.' They are. Around us. And through us [….] There is, however, still another, even more powerfully significant way in which the acceleration of change in society increases the difficulty of coping with life. This stems from the fantastic intrusion of novelty, newness into our existence. Each situation is unique. But situations often resemble one another. This, in fact, is what makes it possible to learn from experience. If each situation were wholly novel, without some resemblance to previously experienced situations, our ability to cope would be hopelessly crippled [….] The acceleration of change, however, radically alters the balance between novel and familiar situations. Rising rates of change thus compel us not merely to cope with a faster flow, but with more and more situations to which previous personal experience does not apply. And the psychological implications of this simple fact, which we shall explore later in this book, are nothing short of explosive [….] 'When things start changing outside, you are going to have a parallel change taking place inside,' says Christopher Wright of the Institute for the Study of Science in Human Affairs. The nature of these inner changes is so profound, however, that, as the accelerative thrust picks up speed, it will test our ability to live within the parameters that have until now defined man and society. In the words of psychoanalyst Erik Erikson, 'In our society at present, the 'natural course of events' is precisely that the rate of change should continue to accelerate up to the as-yet-unreached limits of human and institutional adaptability.' [….] To survive, to avert what we have termed future shock, the individual must become infinitely more adaptable and capable than ever before. He must search out totally new ways to anchor himself, for all the old roots—religion, nation, community, family, or profession— are now shaking under the hurricane impact of the accelerative thrust. Before he can do so, however, he must understand in greater detail how the effects of acceleration penetrate his personal life, creep into his behavior and alter the quality of existence. He must, in other words, understand transience …" [255]
BY THE WAY:
COMPLICATION AND COMPLEXITY ARE NEVER SYNONYMOUS!
I do take into account both. I also practice "… Analytics …" and "…Diagnostics…" and have nascently become interested on what Cambridge University' and Royal Society's Sir Martin Rees, PhD. calls the "…SCIENCE OF COMPLEXITY…"
ERGO:
I have a compiled definition for it.
" … Complexity Science is the systematic study of the nature and behavior of the material and physical universe, based on observation, experiment, and measurement, and the formulation of laws to describe these facts in general terms, with the utter purpose of instituting the perusal of the phenomena which emerge from a collection of interacting objects … Complexity expresses a condition of numerous elements in a system and numerous forms of relationships among the elements … The use of the term complex is often confused with the term complicated. In today's systems, this is the difference between myriad connecting 'stovepipes' and effective 'integrated' solutions. This means that complex is the opposite of independent, while complicated is the opposite of simple …. While this has led some fields to come up with specific definitions of complexity, there is a more recent movement to regroup observations from different fields to study complexity in itself, whether it appears in anthills, human brains, or stock markets. One such interdisciplinary group of fields is relational order theories …"
FOR EXAMPLE # 6. PLEASE SEE THIS:
SECOND, THE MOST-IMPROVED EXCHANGE GOES LIKE THIS:
Star Trek's First Office Spock told Captain James T. Kirk: "… Jim, the [ever-unresolved] problem with you is that you always proceed [, so firmly secured out of simpletonness of supine ignorance,] from false and obsolete assumptions [, as you believe that aging knowledge is permanent and fixed without first discomfirming your own 'armored' convictions against an extremely fluid and transmutating world and universe, whose an unimpeachable 'reserve currency' is ONLY marked by hyperbolic nonlinearlity and explosive impermanence] … And being a Vulcan [, a person whose ethos and mind-set is most accustomed to the lucre of and by gorgeous paradoxes and wicked complexity and geometrical problem-solving and exponential decision-making,] and thus different from you [keep-it-simple-stupid type of fool], I have no ego to bruise [as, by the same token and accordingly, I find neither profit, nor utility at all in identifying or determining the genders of both Angels and Archangels …"
Back to the SIMPLICITY END hardcore:
This so-called " … esoteric … " beyond-insurance risk management approach by DARPA, NASA, Boeing, Lockheed Martin, Shell, Dr. Strangeloves (RAND Corporation's Herman Khan) and a multitude of global corporations has been first instituted in many industries since the beginning of the 1950s.
BEFORE WE CONCLUDE, A DECISIVE NOTA BENE, NOW:
LIKEWISE AND BY WAY OF ILLUSTRATION:
As we speak about disruptions, an unknown thinker pointed out,
" …We are walking toward the edge of a cliff —blindfolded. Our ability to understand the potential for future abrupt changes in climate is limited by our lack of understanding of the processes that control them …" [224]
TODAY, WANTING TO BE A TRUE MANAGER (A PERSON INTO STATESMANSHIP WHO PRACTICES BONAPARTE'S MAN MANAGEMENT) IS A GARGANTUAN AMBITION IF ACTUAL AND SUSTAINED SUCCESS IS A CLEAR OBJECTIVE AND GOAL.
NEW MANAGERIAL REVOLUTIONARIES ARE EXTREMELY MOBILIZED INTO PURPOSEFUL CAUSES.
THEY POSSES ACCESS TO AUSPICIOUS KNOWLEDGE IN GRAVELY IGNORED AND UNDISCOVERABLE FLANKS.
SUBSEQUENTLY:
When I get hired by an institutional client, TRANSFORMATIVE AND INTEGRATIVE RISK MANAGEMENT deeply considers the "…human factor…" I am more interested in the human factor before than after the disruption.
AND WHAT WITH HAS TO WRESTLE WITH TO OVERCOME THE HUMAN FACTOR AND TO SEIZE VICTORY AND PRAVAIL VICTORIOUS BY ANY KNOWN AND UNKNOWN MEASURE:
Revising the Human Factor and Human Mistake, hominids are:
1.- "…Dumb…", according to Ted Turner.
2.- "…Flawed…", according to Dr. Henry Mintzberg.
3.- "…Unstable and unpredictable…", according to NASA.
4.- "…Future illiterate…", according to Alvin Toffler.
5.- "…Political animal…", according to Aristotle.
6.- "… Man, incurable futurologist, is the only traditionalist animal …", according to Antonio Machado. Brackets are of the author.
7.- " … Humans Are Weird …. Humans are creatures of habit with an insatiable need to see familiarity in other people's actions …", according to Dr. Stephen Covey.
8.- " … Humans are biological off-springs …", according to Alvin Toffler.
9.- According to London Business School Prof. Gary Hamel, PhD., humans are (or are into):
9.1.- "… animal husbandry …"
9.2.- " … social creatures …"
9.3.- " … amazingly adaptable …"
9.4.- " … creative and humans can choose …"
10.- " …individuals (human animals) will make mistakes …", according to Sir Martin Rees PhD. Parentheses are of the author.
11.- " … human fallibility …", according to US Secretary of Defense Robert McNamara.
12.- "… explanation-seeking animals …", according to Dr. Nassim Nicholas Taleb, PhD.
13.- "… We [, humans,] are dogma-prone from our mother's wombs…", according to Simon Foucher at http://en.wikipedia.org/wiki/Simon_Foucher
14.- "… Human stupidity…", according to Wikipedia.
15.- [Into] Self-deception (clearly, by so-called humans), according to Wikipedia.
16.- "…Cognitive biases…" and/or "…emotional biases…" (clearly, by so-called humans), according to Wikipedia.
17.- "…Short-term thinking…" animal, according to Professor Daniel Berleant, Ph.D.
18.- "…Animal…" who brain is "…arithmetical…" and thus never nonlinear, according to Professor Daniel Berleant, Ph.D.
19.- The world is mostly filled with "crooked" humans (animals), according to Loss Prevention Guide for Retail Businesses (National Retail Federation) by Rudolph C. Kimiecik (Author)
ISBN-13: 978–0471076360.
20.- The human animal "is unstable, creates wars, has weapons to wipe out the world twice over, and makes computer viruses, …." according to Louis Del Monte, physicist, entrepreneur, and author of "The Artificial Intelligence Revolution.
21.- "… Timid, indecisive, narrow-minded men…" [animals], according to John Churchill, the Duke of Marlborough.
22.- "… Human beings are religious animals,…" according to Umberto Eco.
23.- "…Yes, Humans are a specie of patchwork of all our ancestors …," according to Max Planck Institute for Evolutionary's Dr. Svante Pääbo. He is a Swedish biologist specializing in evolutionary genetics. One of the founders of paleogenetics, he has worked extensively on the Neanderthal genome.
FOR EXAMPLE # 7. PLEASE SEE THIS:
REFLECTING ON THE EDUCATION WE IMMEDIATELY NEED! EMPEROR NAPOLEON BONAPARTE (1769 — 1821), THE GREATEST RULER IN THE TOTALITY OF THE WEST, observed:
"…Education, strictly speaking, has several objectives: one needs to learn how to speak and write correctly, which is generally called grammar and belles letters. Each lyceum has provided for this object, and there is no well-educated man who has not learned his rhetoric [….] After the need to speak and write correctly comes the ability to count and measure. The lyceums have provided this with classes in MATHEMATICS embracing arithmetical and MECHANICAL KNOWLEDGE [THAT IS TO SAY, KNOWLEDGE OF ENGINEERING] IN THEIR DIFFERENT BRANCHES [TO GAIN CRITICAL MASS THROUGH SYSTEMS THINKING WITH THE PERSPECTIVE OF APPLIED OMNISCIENCE] …[….] The elements of several other fields come next: chronology, geography, and the rudiments of history are also a part of the education of the lyceum [….] A young man who leaves the lyceum at sixteen years of age thence knows not only the mechanics of his language and the classical authors, the divisions of discourse, the different figures of eloquence, the means of employing them either to calm or arouse passions, in short, everything that one learns in a course on belles letters. He also would know the principal epochs of history, the basic geographical divisions, and how to compute and measure. He has some general idea of the most striking natural phenomena and the principles of equilibrium and movement both with regard to solids and fluids [….] Whether he desires to follow the career of the barrister, that of the sword, or ENGLISH, or letters; if he is destined to enter into the body of scholars, to be a geographer, engineer, or land surveyor — in all these cases he has received a general education necessary to become equipped to receive the remainder of instruction that his circumstances require, and it is at this moment, when he must make his choice of a profession, that the special studies present themselves …". [113]
FOR EXAMPLE # 8. PLEASE SEE THIS:
DR. WERNHER VON BRAUN ON EDUCATION, (1912 — 1977 and Father of the American Space Program) observed:
"…The average citizen today, of course, has far more scientific information at his disposal than did those greatest of intellects of earlier times. Yet paradoxically, I think that THERE HAS NEVER BEEN A GREATER NEED FOR INCREASED UNDERSTANDING AND APPRECIATION OF SCIENCE. It has been said that, although the choice of direction for our civilization will be determined through democratic process, it is there that the problem begins. TO MAKE RATIONAL CHOICES, THE AVERAGE CITIZEN MUST UNDERSTAND THE NATURE AND ROLE OF SCIENCE AT A TIME WHEN ITS BREADTH AND COMPLEXITY ARE INCREASING ALMOST EXPONENTIALLY [….] Conversely, the scientist, at a time when he can barely keep up to date in his specialty, must not isolate himself in his parochial interest. Instead, he should see his profession as a part of the larger world, to evaluate himself and his work in relation to all forces, especially the humanities, which shape and advance society. THE NEED, THEN, IS FOR AN EDUCATIONAL PROCESS RESULTING IN MORE SCIENTIFIC LITERACY FOR THE LAYMAN, AND MORE LITERACY IN THE HUMANITIES FOR THE SCIENTISTS [….] Man in this scientific age is free only to the extent that he has a grasp on himself and his surroundings. FREEDOM — THE ABILITY TO SPEAK, THINK, ACT, AND VOTE INTELLIGENTLY — is based largely on our ability TO MAKE CHOICES growing out of our understanding of the issues involved. With each advance of science, there is an invitation to more understanding. This is the essence of the burden borne by all peoples since the dawn of humanity. There must be widespread understanding of the role of science in modern society, both as to its limits and our dependence on its basic function as a tool for our survival. This is the imperative for scientific literacy [….] How do we encourage scientific literacy? I THINK THE PROBLEM IS HOW TO INSTILL IN STUDENTS A PERMANENT DESIRE TO LEARN. All youth is endowed with curiosity from the very beginning. What can education process do, not only to keep this natural curiosity alive, but to make it a permanent part of the individual drive? … " [114]
FOR EXAMPLE # 9. PLEASE SEE THIS:
Jiddu Krishnamurti (12 May 1895 – 17 February 1986) observed on education and learning:
"… There is no end to education. It is not that you read a book, pass an examination, and finish with education. The whole of life, FROM THE MOMENT YOU ARE BORN TO THE MOMENT YOU DIE, IS A PROCESS OF LEARNING …"
THIS ARTICLE CONTINUES:
WHITE SWAN PRAISE:
By (U.S.A.'s) The Evacuated Tube Transport Technologies (www.Et3.com) Founder and CEO Daryl Oster:
"… Mr. Andres Agostini possesses a clarity and complexity of thought that is rarely encountered. He is without a doubt one of the most brilliant persons I have had the pleasure to interact with. He is capable of understanding, and describing the forest, the trees, the leaves, the cells, and beyond (and with equal exactitude in several languages)…"
AND:
By Washington D.C. Metro Area (Industry and Military)'s Deputy Director, National Maritime Intelligence-Integration Office (NMIO), Most Honorable Captain Jose Nieves at http://linkd.in/1mXSBMX :
" … Mr. Agostini has a broad intellectual background and technological understanding providing him the ability to see issues from a very different perspective than most people, thus allowing him to see alternate futures, confront challenges head on, and solve complex problems through methodical and sequential processes. Mr. Agostini's White Swan Book addresses the very issue of alternatives to current interdisciplinary approach. The understanding of alternative futures is critical to the success of organizations. Further, Mr. Agostini's deep understanding of alternative futures and technological progression is a most necessary skill in our nation's military and intelligence community's ability to predict and solve future threats and see future opportunities to exploit. Separately, Mr. Agostini's focus on Transformative And Integrative Risk Management to prevent technological surprise was, is, and will remain relevant into the future …"
AND:
By Canadian Space Agency's Dr. Narasimha Bhashyam DSc. (Toronto, Ontario, Canada) at http://linkd.in/1mXSBMX :
"… Agostini's book White Swan Transformative and Integrative Risk Management presents a refreshingly path-breaking novel approach in the highly complex area of risk management which often overwhelms senior management in policy and strategy formulations … the presentation is in well integrated problem-solving interdisciplinary approach makes it a Manual For Optimal Risk Management in very challenging operational environment … THE BOOK WILL BE VERY USEFUL AND HANDY SPECIALLY FOR THOSE HANDLING PROJECTS IN SPACE AND AERONAUTICS … I will very warmly recommend this book to all Practicing Managers and Teachers in Management may like to use this Book For Course In Risk Management …"
AND:
By U.S.A.'s Mr. Glenn Alpert at http://linkd.in/1kYIW8K :
" …'… The future belongs not to those who possess a crystal ball, but those willing to challenge the biases and prejudices of the 'establishment ….' ….Not very many people want to challenge the establishment out of fear or ridicule. Unfortunately, new technologies and new philosophies are not created from older ways of thinking …. To speak about Mr. Agostini's concept of the White Swan Treatise — These methods allow for an organization to plan for optimal futures, rather than leave events to chance. Mr. Agostini is an expert in the domain of Scientific Futuring, and can provide thought leadership and solutions for real-world problems that organizations face in this area … Mr. Andres Agostini has a breadth and depth of expertise that is rarely matched. His insight and advice to our company has been invaluable, and has led us in the right direction with our strategic management decisions with excellent results. I would highly recommend Mr. Agostini's consulting service to other start-ups and new companies, as well as more established ones …"
AND:
By U.S.A.'sMarc H. Gewertz at http://linkd.in/1xrFs5t
" … Many businesses think today's world is complicated and with technology rapidly changing, trying to figure out all the correct things to do is impossible, that it is better to just do what can be done, and adjust things when the result happens to be what is not expected. This is simply gambling where the odds for success and the liability of failure are getting worse by the day. The truth is the world is not complicated, just complex, and with complexity increasing at the same time technology is rapidly changing, the combination of the two conditions only seems complicated. The difference between complexity and complication is complexity can be logically addressed and accounted for such that proper risk management can then be applied and when the quality of the technology is assured early in the planning, analysis and design of the technical solution instead of only assuring it late in the development cycle, the integrated combination of these two scientifically validated methodologies can be used to reliably predict the expected outcomes. There is nobody better at applying the integrated combination of risk management and quality assurance than Mr. Andres Agostini or is there anybody that has more real world experience in doing so, and this includes solving some of the most wicked problems of some of the largest businesses throughout the world. If you are just gambling things work out, then I highly recommend you stop doing business dangerously and seek the assistance of Andres, the master of risk management and quality assurance, as well as reliability and continuous process improvement …"
AND:
By Canada's Most Honorable Prof. Peter Jarmics, EdD. at http://linkd.in/1iFwd6K :
" … Often ignored is the future of mankind as we move through our daily lives. Until you meet Andres Agostini an accomplished author, thinker and strategist. When you browse through the cosmos called his profile you are engaged in a myriad of accomplishments both in his writing and published works but also his accomplishments and impressive list of the companies he has served. He is a thinker and one that makes sense [.…] His relationships are top notch and I have had the pleasure to be offered an introduction. Which has developed into a new relationship and one of both intellectual value but of commonality [.…] If you are looking for the intellectual promise you will not be disappointed in fact you will be impressed. Hi vast intellect in multiple topics is a trait of a visionary. And I believe that Andres is just that [.…] To sum up if your future is in need of clarification and need a well established and respected individual who follows through on his intentions then this is your man. A person of integrity, a future thinker and an accomplished author. I trust you will find his engagement as satisfying as I do …"
AS WELL:
AN INDIAN CIVIL ENGINEER, VEDIC SAGE AND SANSKRIT SCHOLAR WROTE,
" … White Swan [ http://amzn.to/1tH7Fpl ]; yes White Swan! In Sanskrit' we have an adage-HAMSA KSHEERA NYAYAM — meaning Swan and the Milk Example! What does this mean? It is believed that Swan accepts milk portion only from out of the mixture of Milk and Water! I am honored to compare this Vedic Analogy with Mr. Andres Agostini's WHITE SWAN — I do know whether Andres kept this Vedic term. While titling his Great foreseeing of the Future! Needless to say that Andres is a foreseer; DRASHTARA! He illumines the present science and technology and heightens the future Metascale heights, yet he says that he does know what could be in 2045! In Sanskrit the Vedantic Sages call Andres «… a DRASHTARA …» and as such he is set out to re-channelize the R&D&I effort's direction and pathway by applied scientists in dire straits, thus re-illuminating them in the unaccounted-for dynamic driving forces with the end for scientists to return to the right path! The universe is a legendary verse and I must admit with my limited knowledge of the past to future, the evolution is the greatest revolution in all aspects; Known becomes non existent and unknown becomes the most adored and preferred tool of the present tool for affluence in scientific and technological fast tracks! I admire Andres at every meticulous step in his narration citing and acknowledging his indebtedness to his peers! My knowledge of Science and Technology is limited to appreciation of the facts of the future! I am no match to Andres Agostini's knowledge, but have the firm belief that Andres Agostini's forethoughts of the future are the as true as Sun and Moon! It is a prevailed I casually came across this page and must say I am a gainer in knowledge! there is ignorance in knowledge and so too knowledge in ignorance because the more one learns; much more he/she feels more he/she must learn! People like Mr. Andres Agostini are always sought after to educate the thirsty for knowledge of the futuristic developments! Wisdom and knowledge are dual entities of the mind! Needless to say drawing from the expressive impressions of previous births to forecast the futuristics of the incoming generations called in Sanskrit as KAALAGYAN! (in Sanskrit, '… knowledge and awareness with farsightedness of eternal future times…') Whatever we call genes/genetic in modern scientific terminology! As usual Mr. Andres Agostini, with his habitual farsightedness has inherent KAALAGYAN to disclose whatever the future holds for the future! Sometimes I have the premonition, having read several of Mr Andres Agostini's publications, that he belongs to pre-Vedic period in foreseeing the futuristic happenings! He is totally dedicated in his studies: width and depth! his zeal surmounts mount Everest! I wish Mr Andres Agostini all the great results for the future he is investigating! …"
THEREBY:
TO THIS EXPRESS PURPOSE, IT MUST BE ACKNOWLEDGED:
Like Andres Agostini, Egotistical Prima Donna (SkunkWorks practitioner) is no longer a captive to history.
Like Andres Agostini, Whatever he, she can imagine, he, she can accomplish.
Like Andres Agostini, Egotistical Prima Donna (SkunkWorks practitioner) is no longer a vassal in a faceless bureaucracy, he, she is an activist, not a drone.
Like Andres Agostini, Egotistical Prima Donna (SkunkWorks practitioner) is no longer a foot soldier in the march of progress.
Like Andres Agostini, Egotistical Prima Donna (SkunkWorks practitioner) is a Revolutionary! … "
ABSOLUTE END.
Authored By Copyright Mr. Andres Agostini
White Swan Book Author (Source of this Article)
http://www.LINKEDIN.com/in/andresagostini
http://www.AMAZON.com/author/agostini
https://www.FACEBOOK.com/heldenceo (Other Publications)
http://LIFEBOAT.com/ex/bios.andres.agostini
http://ThisSUCCESS.wordpress.com
https://www.FACEBOOK.com/agostiniandres
http://www.appearoo.com/aagostini
http://connect.FORWARDMETRICS.com/profile/1649/Andres-Agostini.html
https://www.FACEBOOK.com/amazonauthor
http://FUTURE-OBSERVATORY.blogspot.com
http://ANDRES-AGOSTINI-on.blogspot.com
http://AGOSTINI-SOLVES.blogspot.com