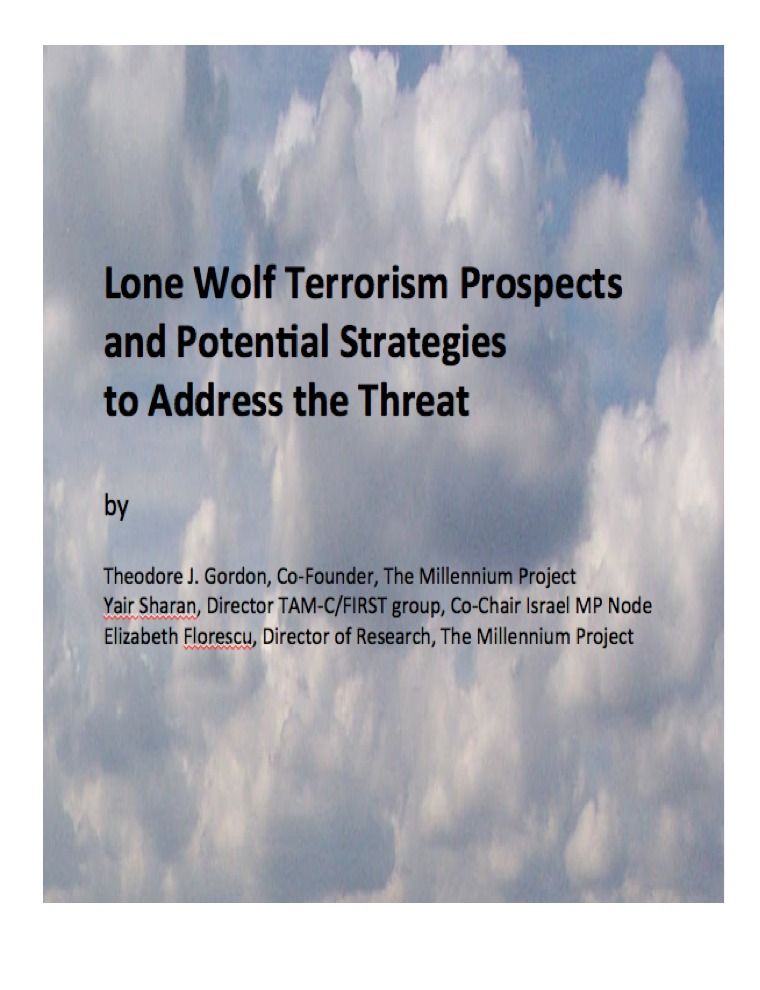 Washington, DC (PRWEB) July 07, 2015
Lone Wolf (LW) terrorism is on the rise around the world but it can get a lot worse when self-motivated bad guys make weapons of mass destruction in their kitchens or bio-labs. Could 100,000 People be Killed in a Single Lone Wolf Attack? When? Where? And How Could this be Prevented?
In a recent study, half of an international group of security and other experts forecasted that a single individual could kill 100,000 people or more in a single attack by 2050. Or not: the other half of the panel said such an event might happen after the turn of the next century or never.
While there was sharp disagreement among the experts, we already know that lone wolf terrorists have tried to build these massively destructive weapons and the FBI is already using the term WMD in many of their indictments.
As a new book titled Lone Wolf Terrorism Prospects just released by a Millennium Project team points out, systems of pre-detection are also being developed that can identify suspicious individuals by using tools that monitor communications and behavior, or new techniques from psychology, brain anatomy, and genetics. Or synthesize information from all of these imperfect sources.
The book sketches the increasing race between the growing destructive capacity of lone wolves and the improving tools of detection and interdiction. "The outcome of this race will set the world security stage for decades", comments Ted Gordon, lead author of the book.
Around this fascinating and dangerous interplay between multiple single aggressors with increasingly destructive power, and the development of means for identifying destructive intent in individuals before they act, lie a host of legal and moral issues that will test our will as a free society.
Will the methods of detection be adequate and timely enough to avoid catastrophe? If they are implemented will we be able to maintain our freedoms?
The book is available as a 200-page paperback through Amazon and downloadable as a pdf file on http://www.lonewolfthreat.com. For single review copies please email [email protected]
The authors of the book are:
Theodore Jay Gordon, co-founder of The Millennium Project, author of the Macmillan encyclopedia article on the future of science and technology and currently on the editorial board of Technological Forecasting and Social Change.
Dr. Yair Sharan, a retired colonel in the Israeli Defense force, currently the director of TAM-C/FIRST group, active in the security and technology fields. He has been a senior associate researcher in Begin-Sadat Center for strategic studies (BESA) and has coordinated several EU projects, including FESTOS in the Security program and PRACTIS in the Science in Society program.
Elizabeth Florescu, Director of Research at The Millennium Project, co-author of the annual "State of the Future," the report "Environmental Crimes, Military Actions, and the International Criminal Court" and involved in committees and forums addressing issues related to S&T, environment, security, international regulations, ontology, and knowledge management.
The Millennium Project is a global participatory think tank connecting 56 Nodes around the world that identify important long-range challenges and strategies, and initiate and conduct foresight studies, workshops, symposiums, and advanced training. Its mission is to improve thinking about the future and make it available through a variety of media for feedback to accumulate wisdom about the future for better decisions today. It produces the annual "State of the Future" reports, the "Futures Research Methodology" series, the Global Futures Intelligence System (GFIS), and special studies. Over 4,500 futurists, scholars, business planners, and policy makers who work for international organizations, governments, corporations, NGOs, and universities have participated in The Millennium Project's research since its inception, in 1992. The Millennium Project was selected among the top ten think tanks in the world for new ideas and paradigms by the 2013 and 2014 University of Pennsylvania's GoTo Think Tank Index, and 2012 Computerworld Honors Laureate for its contributions to collective intelligence systems.