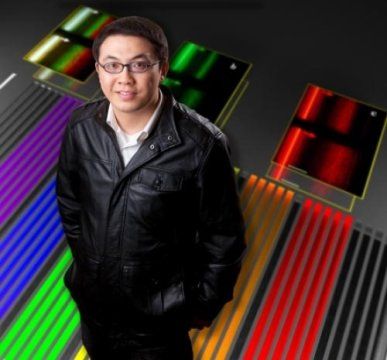 Fortunately, that is changing because researchers such as Qiaoqiang Gan, University at Buffalo assistant professor of electrical engineering, are helping develop a new generation of photovoltaic cells that produce more power and cost less to manufacture than what's available today.
One of the more promising efforts, which Gan is working on, involves the use of plasmonic-enhanced organic photovoltaic materials. These devices don't match traditional solar cells in terms of energy production but they are less expensive and — because they are made (or processed) in liquid form — can be applied to a greater variety of surfaces.
Gan detailed the progress of plasmonic-enhanced organic photovoltaic materials in the May 7 edition of the journal Advanced Materials. Co-authors include Filbert J. Bartoli, professor of electrical and computer engineering at Lehigh University, and Zakya Kafafi of the National Science Foundation.