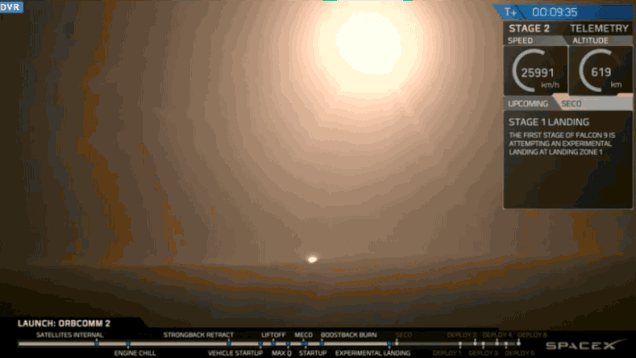 Right on schedule, SpaceX's Falcon 9 booster made a beautiful soft landing at Cape Canaveral Air Force Station moments ago. It's a huge moment in the history of spaceflight, marking the first time a rocket has ascended into orbit and landed back on Earth.
The prospects for the reusable rocket system SpaceX has been chasing for over a year are that much better.
At 8:29 pm ET, SpaceX launched its upgraded, Falcon 9 rocket carrying a payload of 11 Orbcomm communication satellites into low Earth orbit from Space Launch Pad 40 at Cape Canaveral Air Force Station. Minutes later, the second stage separated from the first and continued to propel its payload into higher orbit.