This just in: Aipoly Vision* — a free AI app that runs on your iPhone/iPad** (Android coming) and recognizes objects and colors — is now live on the App store, Aipoly Inc. co-founder Alberto Rizzoli just told me in an email.
Of course, I immediately downloaded the app, launched it on my iPhone 6s+, and tested it. It works spectacularly. Its voice names objects or colors in real time as a walk around and also displays objects' names. I am blown away. Here's a sample: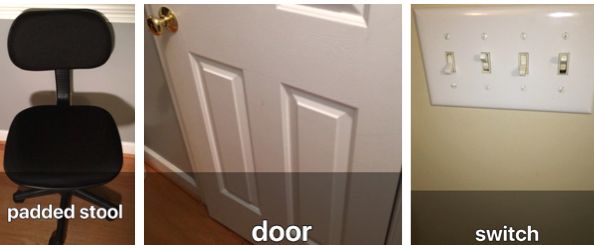 Informal Aipoly Vision object-recognition test (credit: A. Angelica/Aipoly Inc.)
Aside from a few minor glitches (the swivel chair was also named "office" and "padded stool" and a banana was also named "bug" and "handle" — but I taught it the right name using its "pencil" tool), Aipoly Vision was astoundingly accurate. Colors were a problem with small objects because of backgrounds, but works OK for most large objects, walls, and floors, the company says.