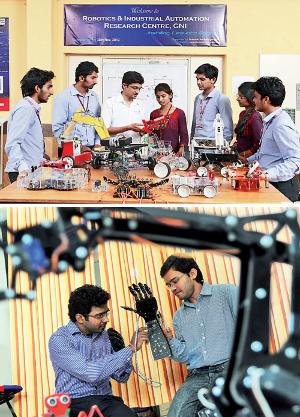 This is wonderful program for students wanting to learn robotics. I do believe for real AI/ traditional Robotics (not referring to nanobots or microbots) to truly accelerate in capabilities; it will require technology like Quantum.
---
Two young engineering students are making robotics more accessible to enthusiasts across the country
A spartan apartment at a nondescript housing society in Pashan is filled with robots of all shapes and sizes. Among the curious looking machines are two robotic hands that mimic the movement of a human body and a large quadcopter that looks as if it's ready to fly. This is the working space of College of Engineering, Pune (CoEP) alumni Amol Gulhane and Pratik Pravin Deshmukh — the 20-something founders of Robolab, a venture that's making robotics accessible to the masses by building robotics labs across the country.
"We were inspired to start Robolab because of two reasons. Being members of the Robot Study Circle, a college group dedicated to robotics at CoEP, we were passionate about building robots. Although we were specialising in electronics and telecommunications, robotics brought out the best in us. When the time approached for graduation in 2013, the thought of having to give up our hobby was depressing. So, the idea to start Robolab in November 2013 was born out of the desire to stay true to our calling," said Deshmukh. The second reason, revealed the youngsters, was more idealistic. In the course of launching Robolab, the duo conducted a survey to find out the number of colleges in India having labs dedicated to robotics. "We found out there were just a handful of colleges like the IITs who had such labs. Since not many people can make it to the IITs, we decided to take robotics to the masses with Robolab."