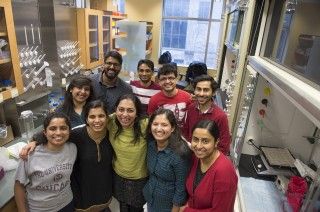 Last summer, the team reported another achievement: the development of a DNA nanosensor that can measure the physiological concentration of chloride with a high degree of accuracy.
"Yamuna Krishnan is one of the leading practitioners of biologically oriented DNA nanotechnology," said Nadrian Seeman, the father of the field and the Margaret and Herman Sokol Professor of Chemistry at New York University. "These types of intracellular sensors are unique to my knowledge, and represent a major advance for the field of DNA nanotechnology."
Chloride sensor
Chloride is the single most abundant, soluble, negatively charged molecule in the body. And yet until the Krishnan group introduced its chloride sensor—called Clensor—there was no effective and practical way to measure intracellular stores of chloride.
Read more