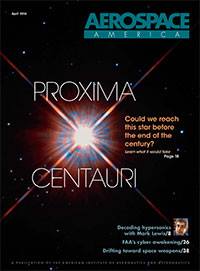 Interesting…
---
BY 2099.
The April issue of Aerospace America, the flagship journal of the American Institute of Aeronautics and Astronautics (AIAA), features an article on interstellar travel. Among the topics presented, i4is' Project Dragonfly.
You can find the full article under this link:
http://www.aerospaceamerica.org/Documents/Aerospace_America_…il2016.pdf
The AIAA is the largest aerospace non-profit in the world.
Read more