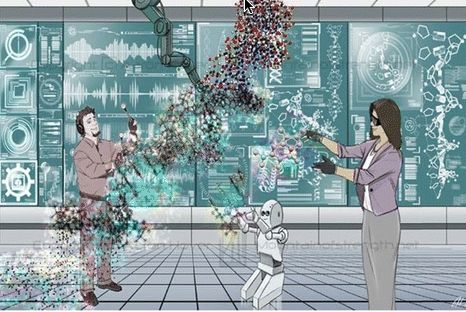 NYU-X Holodeck (credit: Winslow Burleson and Armanda Lewis)
In an open-access paper in the Journal of Artificial Intelligence Education, Winslow Burleson, PhD, MSE, associate professor, New York University Rory Meyers College of Nursing, suggests that "advanced cyberlearning environments that involve VR and AI innovations are needed to solve society's "wicked challenges*" — entrenched and seemingly intractable societal problems.
Burleson and and co-author Armanda Lewis imagine such technology in a year 2041 Holodeck, which Burleson's NYU-X Lab is currently developing in prototype form, in collaboration with colleagues at NYU Courant, Tandon, Steinhardt, and Tisch.
"The "Holodeck" will support a broad range of transdisciplinary collaborations, integrated education, research, and innovation by providing a networked software/hardware infrastructure that can synthesize visual, audio, physical, social, and societal components," said Burleson.
Read more