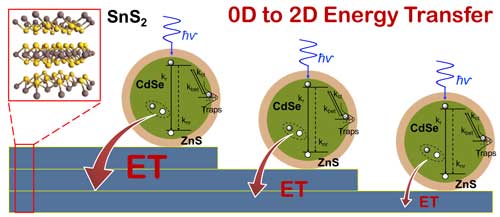 Improving light-sensing devices with Q-Dots.
---
Harnessing the power of the sun and creating light-harvesting or light-sensing devices requires a material that both absorbs light efficiently and converts the energy to highly mobile electrical current. Finding the ideal mix of properties in a single material is a challenge, so scientists have been experimenting with ways to combine different materials to create "hybrids" with enhanced features.
In two just-published papers, scientists from the U.S. Department of Energy's Brookhaven National Laboratory, Stony Brook University, and the University of Nebraska describe one such approach that combines the excellent light-harvesting properties of quantum dots with the tunable electrical conductivity of a layered tin disulfide semiconductor. The hybrid material exhibited enhanced light-harvesting properties through the absorption of light by the quantum dots and their energy transfer to tin disulfide, both in laboratory tests and when incorporated into electronic devices. The research paves the way for using these materials in optoelectronic applications such as energy-harvesting photovoltaics, light sensors, and light emitting diodes (LEDs).
Single nanocrystal spectroscopy identifies the interaction between zero-dimensional CdSe/ZnS nano crystals (quantum dots) and two-dimensional layered tin disulfide as a non-radiative energy transfer, whose strength increases with increasing number of tin disulfide layers. Such hybrid materials could be used in optoelectronic devices such as photovoltaic solar cells, light sensors, and LEDs. (click on image to enlarge)
Read more