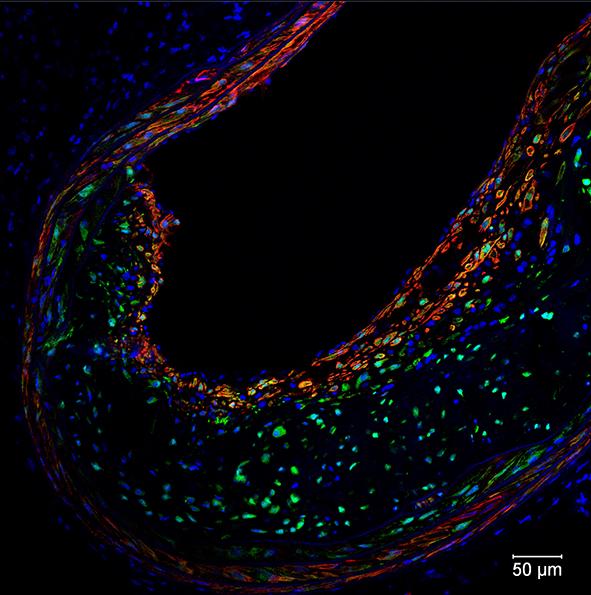 May turn out to be the "fountain-of-youth gene," say researchers.
---
An atherosclerotic lesion. Such lesions can rupture and cause heart attacks and strokes. (credit: UVA School of Medicine)
University of Virginia School of Medicine have discovered that a gene called Oct4 — which scientific dogma insists is inactive in adults — actually plays a vital role in preventing ruptured atherosclerotic plaques inside blood vessels, the underlying cause of most heart attacks and strokes.
The researchers found that Oct4 controls the conversion of smooth muscle cells into protective fibrous "caps" inside plaques, making the plaques less likely to rupture. They also discovered that the gene promotes many changes in gene expression that are beneficial in stabilizing the plaques. In addition, the researchers believe it may be possible to develop drugs or other therapeutic agents that target the Oct4 pathway as a way to reduce the incidence of heart attacks or stroke.
Could impact many human diseases, regenerative medicine
The researchers are also currently testing Oct4′s possible role in repairing cellular damage and healing wounds, which would make it useful for regenerative medicine.
Read more