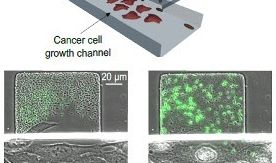 I never get tired of hearing more information on this research.
---
A synthetic genetic circuit programmed into an attenuated Salmonella enterica subspecies can be used to systemically deliver an anti-tumor toxin into mice with cancer. The circuit allows the bacterial cells inside a tumor to synchronously self-destruct by lysis, releasing the toxin directly in the tumor.
Researchers at the University of California San Diego and the Massachusetts Institute of Technology (MIT) have come up with a strategy for using synthetic biology in therapeutics. The approach enables continual production and release of drugs at disease sites in mice while simultaneously limiting the size, over time, of the populations of bacteria engineered to produce the drugs.
"This impressive study represents a big step towards one of the great dreams of synthetic biology: rationally programming cells, in this case bacteria, to exhibit complex, dynamic, and beneficial behaviors in a host organism," Michael Elowitz, whose Caltech lab builds synthetic genetic circuits and who was not involved in the work, wrote in an email to The Scientist.
Read more