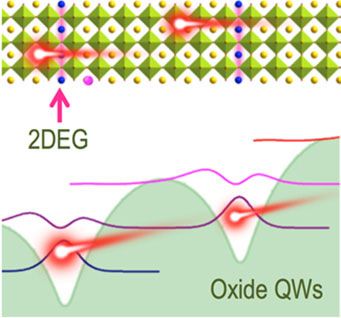 Computers use switches to perform calculations. A complex film with "quantum wells"—regions that allow electron motion in only two dimensions—can be used to make efficient switches for high-speed computers. For the first time, this oxide film exhibited a phenomenon, called resonant tunneling, in which electrons move between quantum wells at a specific voltage. This behavior allowed an extremely large ratio (about 100,000:1) between two states, which can be used in an electronic device as an ON/OFF switch to perform mathematical calculations (Nature Communications, "Resonant tunneling in a quantum oxide superlattice").
Efficient control of electron motion can be used to reduce the power requirements of computers. "Quantum wells" (QW) are regions that allow electron motion in only two dimensions. The lines (bottom) in the schematic show the probability of finding electrons in the structure. The structure is a complex oxide (top) with columns (stacked blue dots corresponding to an added element) where the electrons are free to move in only two dimensions. This is a special type of quantum well called a two-dimensional electron gas (2DEG). (Image: Ho Nyung Lee, Oak Ridge National Laboratory)
To meet our exponentially growing need for computing power without a corresponding jump in energy use, scientists need more efficient electronic versions of switches to perform calculations. Efficient switches need materials that switch between well-defined ON/OFF states. The results of this study could lead to a new class of energy-efficient electronics because these materials can ensure the electronic switches are ON or OFF. These electronic switches could lower power consumption in electronics enabling, for example, the development of high-speed supercomputers and cell phones with longer battery life.
Read more