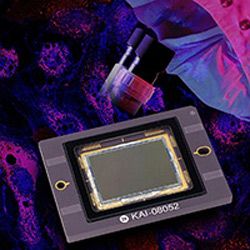 ON Semiconductor's new 8 megapixel (MP) KAI-08052 image sensor enhances imaging performance in demanding industrial applications with technology that improves the near-infrared sensitivity of CCD image sensors.
The image sensor provides up to twice the sensitivity in near-infrared wavelengths as the company's standard Interline Transfer CCD pixel design. This enhanced sensitivity can be critical in applications such as scientific and medical imaging, where samples emit or fluoresce in NIR wavelengths; or in machine vision and intelligent transportation systems (ITS), where NIR illumination is often used to better examine an object or to isolate a vehicle's license plate.
The new CCD pixel design used extends the electron capture region deeper in the silicon to better capture electrons generated by long wavelength photons. This deeper pixel well improves detection of NIR wavelengths by up to a factor of two depending on the specific wavelength studied.
Read more