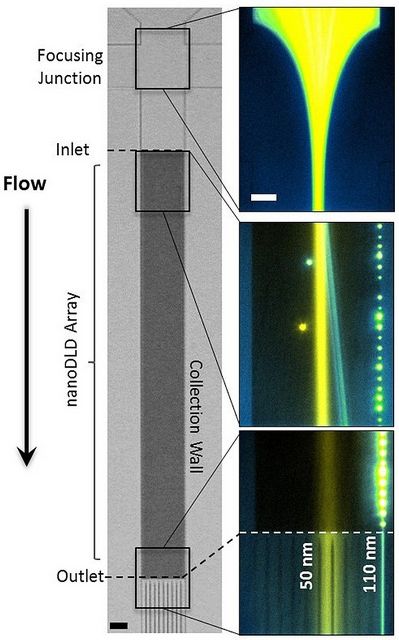 IBM scientists have developed a new lab-on-a-chip technology that can, for the first time, separate biological particles at the nanoscale and could help enable physicians to detect diseases such as cancer before symptoms appear.
As reported today in the journal Nature Nanotechnology*, the IBM team's results show size-based separation of bioparticles down to 20 nanometers (nm) in diameter, a scale that gives access to important particles such as DNA, viruses and exosomes. Once separated, these particles can be analyzed by physicians to potentially reveal signs of disease even before patients experience any physical symptoms and when the outcome from treatment is most positive. Until now, the smallest bioparticle that could be separated by size with on-chip technologies was about 50 times or larger, for example, separation of circulating tumor cells from other biological components.
IBM is collaborating with a team from the Icahn School of Medicine at Mount Sinai to continue development of this lab-on-a-chip technology and plans to test it on prostate cancer, the most common cancer in men in the U.S.
Read more