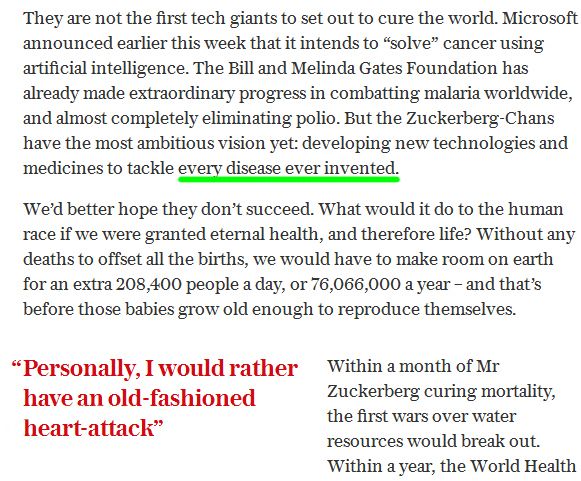 A strong rebuttle to the sick article in the Telegraph which attempts to discredit Zuckerberg and Chan and their commitment to curing diseases.
---
Science and progress hardly ever stop just because a few cuckoos think we're going too far. That's what I tell myself most of the times when I bump into depressingly ill-informed articles about ageing and the diseases of old age. I tell myself that the best thing to do is to just let such articles disappear into oblivion and not give them any extra visibility. However, if instead of a few cuckoos we're faced with an army of cuckoos, then we're in for troubles.
At the time of this writing, people who are in favour of or oppose rejuvenation aren't many, and neither are those who know about it but don't care. Quite likely, most people in the world haven't even heard about it yet. What I fear is that, when the advent of rejuvenation biotechnologies will be close, people who oppose rejuvenation will do their best to persuade undecided ones that disease is better than health, and ultimately, provoke an us-vs-them conflict that could jeopardise the cause of rejuvenation. The best way to avoid that conflict is to convince as many people as possible to support rejuvenation biotechnologies before they even arrive, so that when they do, those who oppose them will only be a few cuckoos indeed and not an army. Exposing the intellectual misery of deathist arguments is indubitably a good way of reaching this goal; that's why I chose to respond to this spectacularly stupid article, instead of just ignoring it.
Lewis doesn't want to live in a world without diseases. She prefers living in one where diseases are invented.
Read more