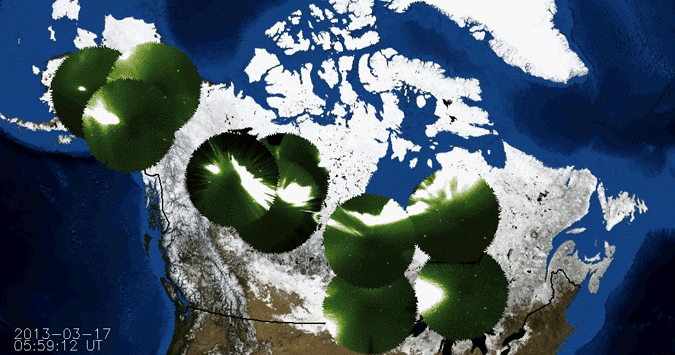 The majestic auroras have captivated humans for thousands of years, but their nature – the fact that the lights are electromagnetic and respond to solar activity – was only realized in the last 150 years. Thanks to coordinated multi-satellite observations and a worldwide network of magnetic sensors and cameras, close study of auroras has become possible over recent decades. Yet, auroras continue to mystify, dancing far above the ground to some, thus far, undetected rhythm.
Using data from NASA's Time History of Events and Macroscale Interactions during Substorms, or THEMIS, scientists have observed Earth's vibrating magnetic field in relation to the northern lights dancing in the night sky over Canada. THEMIS is a five-spacecraft mission dedicated to understanding the processes behind auroras, which erupt across the sky in response to changes in Earth's magnetic environment, called the magnetosphere.
These aurora images were taken in 2013 from the ground looking up with a network of all-sky cameras spread across Canada, studying auroras in collaboration with THEMIS. Taking images of aurora from the ground in conjunction with satellite data taken from above the atmosphere gives scientists a more comprehensive picture of how and why auroras form.
Read more