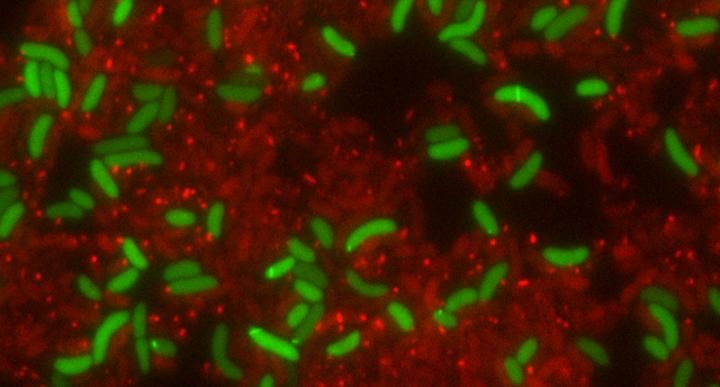 Many bacteria possess molecular spear guns, which they fire at enemies and rivals, thus putting them out of action. The tips of these nano-spear guns, known as Type VI secretion system (T6SS), are loaded with toxic molecules that lead to death of their adversaries. However, sometimes close related bacteria come under fire. The team of Prof. Marek Basler, infection biologist at the Biozentrum of the University of Basel, has shown for the first time, that in contrast to their enemies the harpooned sister cells actually profit from the attack: After a T6SS injection, they are able to reuse specific proteins to produce their own spear guns. Thus the related bacterial strains help each other to enlarge their arsenal of weapons and to fight their competitors.
Bacteria harpoon their opponents — and their allies.
The T6SS is firmly attached to the bacterial cell envelop. The tiny spear with a sharp tip is surrounded by a flexible sheath. "When bacteria fire their spear guns, the sheath rapidly contracts in just a few milliseconds and ejects the spear out of the cell into by-standing bacteria," says Basler describing the mechanism. "The attackers then recycle the harpoon proteins remaining in the cell." In this maneuver, the bacteria also hit related bacterial strains that do the same as the attackers: They disassemble the harpoon into their protein components and reuse these for new T6SS assembly.
Read more