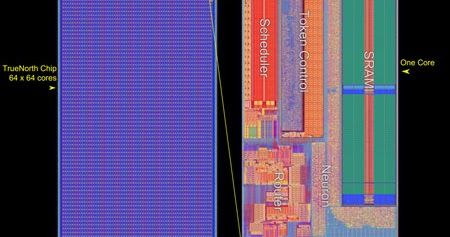 IBM delivered on the DARPA SyNAPSE project with a one million neuron brain-inspired processor. The chip consumes merely 70 milliwatts, and is capable of 46 billion synaptic operations per second, per watt–literally a synaptic supercomputer in your palm.
Along the way—progressing through Phase 0, Phase 1, Phase 2, and Phase 3—we have journeyed from neuroscience to supercomputing, to a new computer architecture, to a new programming language, to algorithms, applications, and now to a new chip—TrueNorth.
Fabricated in Samsung's 28nm process, with 5.4 billion transistors, TrueNorth is IBM's largest chip to date in transistor count. While simulating complex recurrent neural networks, TrueNorth consumes less than 100mW of power and has a power density of 20mW / cm2.
Read more