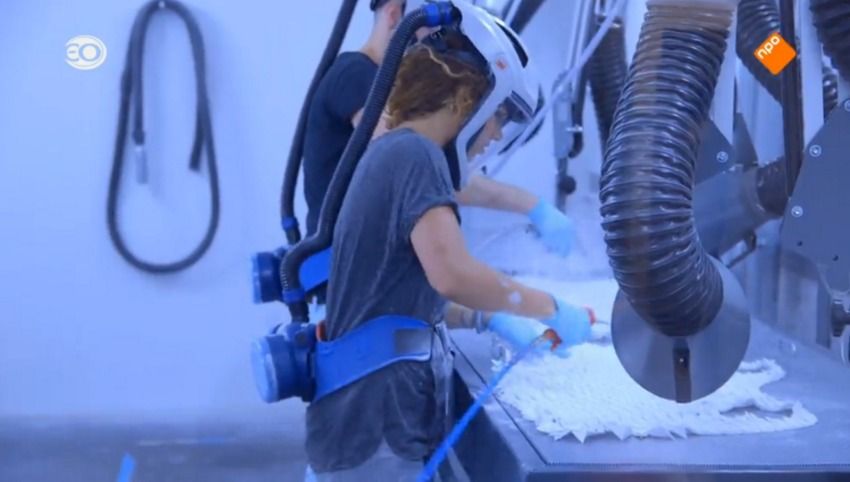 If I have a very robust and sophisticated 3D/ 4D printer to make my own clothing, accessories, household furnishings plus another option in my printer/s to make dishware, household accessories, etc. Why would I ever need a Macys, Bed-Bath, etc. as well as Amazon for that matter for clothing, etc. Hmmm, and retail was already worried over Amazon and Aliexpress, etc.
---
We've followed Nervous System for two years now, with their stunning introduction of 4D printed apparel. Based in Somerville, MA, the design team has since offered numerous projects to the world, featuring their 3D printed Kinematics dress on more than one instance from the first one now permanently ensconced in MOMA to debuting their last in a Sydney Museum. And while we've reported on the innovation of their adaptive materials along with an overview of their construction in collaboration with Shapeways, now we are allowed to take a more comprehensive look from the present, as others look much further into the future.
Dutch TV channel NPO gave their viewers a thorough view at how the Kinematics dress is made, from the scanning process to the next step which is to choose the material and shape of the clothing, and then on to the actual 3D printing. You'll see that the hosts are very excited about the process, and while unless you speak Dutch, you won't understand a word, it's easy to understand what's going on and why everyone is so enthusiastic. The episode came about as both the Nervous System team and Shapeways came together again, and actually created a whole new Kinematic Petals Dress for the special.
As they highlighted the world of high-tech in 'Netherlands in 2050,' the hosts truly did bring the dress to life as rather than just explaining what happens, they showed us, with host Rachel Rosier enjoying the process firsthand at the Shapeways' facility in Eindhoven. Keep in mind, again, that these dresses are in demand for the permanent collections of museums.
Read more