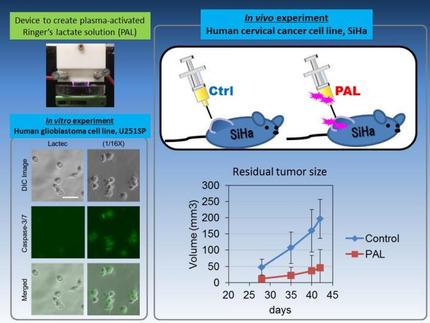 Physical plasma is one of the four fundamental states of matter, together with solid, liquid, and gas, and can be completely or partially ionized (thermal/hot or non-thermal/cold plasma, respectively). Non-thermal plasma has many industrial applications, but plasma medicine is a new field of therapy based on non-thermal atmospheric pressure plasma that has been used in cancer treatment, wound healing, and blood coagulation. Plasma is known to react with air to produce highly reactive free radicals, and with liquid to produce long-lived reactive molecules that can be used for chemotherapy. However, the exact components responsible for the anti-tumor effects were unknown.
Now, a research team based at Nagoya University used plasma to activate Ringer's solution, a salt solution with existing therapeutic functions, and showed that its lactate component had anti-tumor effects.
Previous work by the researchers developed plasma-activated cell culture medium as a form of chemotherapy, but selected Ringer's solution in the present work because of its simpler composition and likelihood of forming less complex reaction products. Ringer's lactate solution (Lactec) was irradiated with plasma for 3–5 minutes, after which it demonstrated anti-tumor effects on brain tumor cells.
Read more