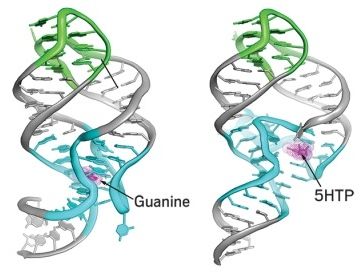 Scientists simulate evolution in the lab by introducing mutations iteratively into biomolecules such as nucleic acids and selecting for desired properties. When carrying this process out specifically on RNA molecules, they can evolve the RNAs to bind specific small molecules. But many of these so-called aptamers don't bind well to their targets when put inside cells because they don't fold into stable structures.
"As we solved the structures of naturally occurring aptamers, we noticed they had much more complex secondary and tertiary structures" than versions made in the lab, says Robert T. Batey of the University of Colorado, Boulder. "So we decided to use these naturally occurring RNA folds as starting points" for producing more stable artificial aptamers.
To prove their concept, Batey and coworkers used RNA sequences from naturally occurring ribozymes and riboswitches as scaffolds to evolve aptamers that bind amino acids and other small molecules used to make neurotransmitters (Nat. Chem. Biol. 2017, DOI: 10.1038/nchembio.2278). The resulting aptamers are selective for these precursor molecules over structurally similar amino acids and the neurotransmitters themselves.
Read more