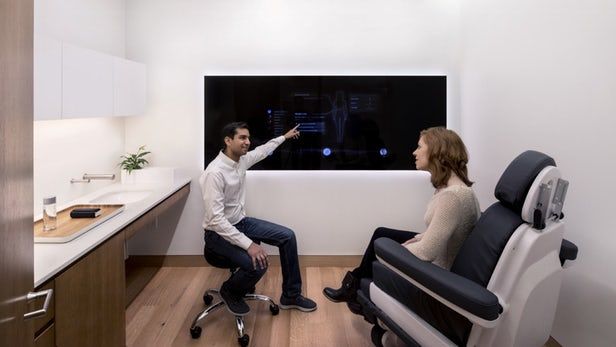 Resembling something that looks more like an Apple store than a traditional doctor's office, Forward proposes an entirely different approach to healthcare, with unlimited access to the clinic's medical resources through a single monthly membership fee.
Upon arriving at a Forward clinic, members sign in on an iPad and enter a custom-designed body scanner. The device immediately processes a variety of biometric data which can be accessed by members through an app on their phone.
Things get even more futuristic when you move into the clinic's exam rooms. Faced with a giant touch screen display on the wall integrating your medical history and recent biometric data, the doctor can discuss any imminent healthcare issues while an AI system monitors the conversation and instantly displays notes and suggested treatment plans.
Read more