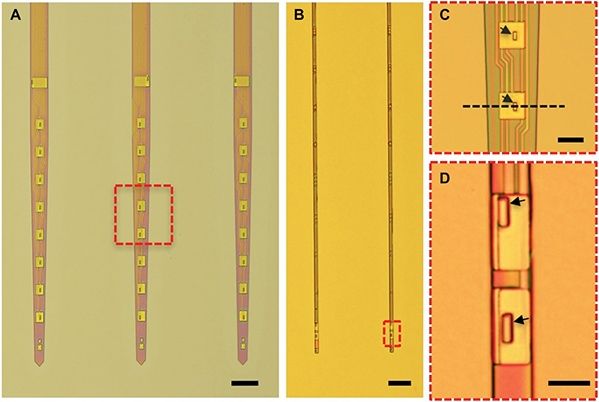 There is way more coming in BMI.
---
Researcher Dr. Luan and his interdisciplinary team from the University of Texas at Austin have developed an ultra flexible nanoelectronic thread (NET) that has the potential to offer a new type of the long-term neural implants. Neural probes are used to directly measure or even stimulate electrical activity in specific regions of the brain. However, despite the many advances in the field, issues with biocompatibility have limited the prospects and usefulness of the technology. Conventional probes induce scarring around the implant over time, which in turn increasingly impairs the devices' ability to measure electrical impulses. This scarring is a result of conventional probes' width, material, and lack of flexibility.
Due to the micrometer dimensions of the NET and its insulation, the implant doesn't trigger the development of scar tissue and continues working for months at a time. Publishing in the journal Science Advances, the researchers describe the NET from 7 nm nanoprobes layered together and two to three layers of insulation. The layers together total to about 1 µm in thickness, which grants the probe flexibility that is almost 1000 times greater than conventional probes. This flexibility allows the device to remain in place without hindering the movement of or displacing surrounding tissue.
The probe, though significantly smaller, still records data using the same method as standard neural probes. The recording electrodes are evenly placed on the probe, and the collected electrical impulses are communicated to connected devices through microfabricated connections.
Read more