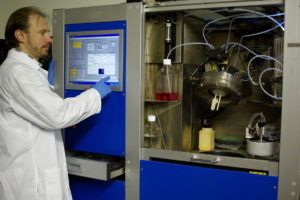 Superlubricity nano-structured self-assembling coating repairs surface wear, decreases emissions and increases HP and gas mileage.
Globally about 15 percent of manmade carbon dioxide comes from vehicles. In more developed countries, cars, trucks, airplanes, ships and other vehicles account for a third of emissions related to climate change. Emissions standards are fueling the lubricant additives market with innovation.
Up to 33% of fuel energy in vehicles is used to overcome friction. Tribology is the science of interacting surfaces in relative motion inclusive of friction, wear and lubrication. This is where TriboTEX, a nanotechnology startup is changing the game of friction modification and wear resilience with a lubricant additive that forms a nano-structured coating on metal alloys.
This nano-structured coating increases operating efficiency and component longevity. It is comprised of synthetic magnesium silicon hydroxide nanoparticles that self-assemble as an ultralow friction layer, 1/10 of the original friction resistance. The coating is self-repairing during operation, environmentally inert and extracts carbon from the oil. The carbon diamond-like nano-particle lowers the friction budget of the motor, improving fuel economy and emissions in parallel while increasing the power and longevity of the motor.
TriboTEX has a Kickstarter campaign that has just surpassed $100,000 in funding. The early bird round has just closed that offered the product at one half the cost of its retail. The final round offers the lubricant system self-forming coating at 75 percent and is ending shortly. The founder Dr. Pavlo Rudenko, Ph.D. is a graduate of Singularity University GSP11 program.