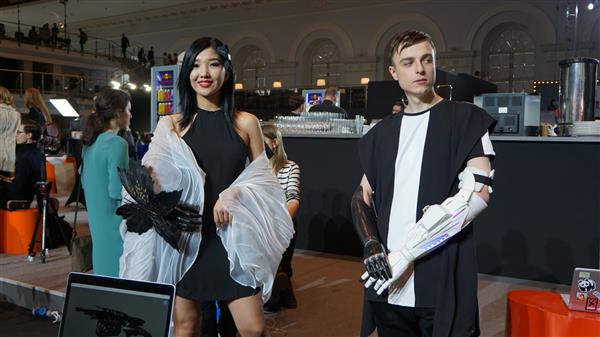 Earlier this month, Moscow's Mercedes-Benz Fashion Week showcased some spectacular 3D printed prosthetic arms made by designer Nikita Replyanski and Russian prosthesis manufacturer Motorica. The 3D printed prostheses, inspired by robots and butterflies, were made using Autodesk Fusion 360.
Fashion weeks, whether they're being held in the "Big Four" fashion capitals of the world or elsewhere, tend to favor style over substance. It's called a fashion week, after all, not a function week. But that doesn't mean that the industry events don't occasionally showcase items that are as sensible as they are stylish. Just have a look at what was on show at Moscow's Mercedes-Benz Fashion Week earlier this month.
While not usually an event of major global interest like Paris Fashion Week, the Russian fashion show brought together a host of top designers looking to show off their fall/winter 2017–2018 collections. Amongst those designers was Nikita Replyanski, a Russian designer and concept artist who left the computer games industry three years ago to focus on designing physical, non-virtual items. But rather than show off dresses, shoes, hats, Replyanski was presenting something totally different: 3D printed prosthetic arms.
Read more