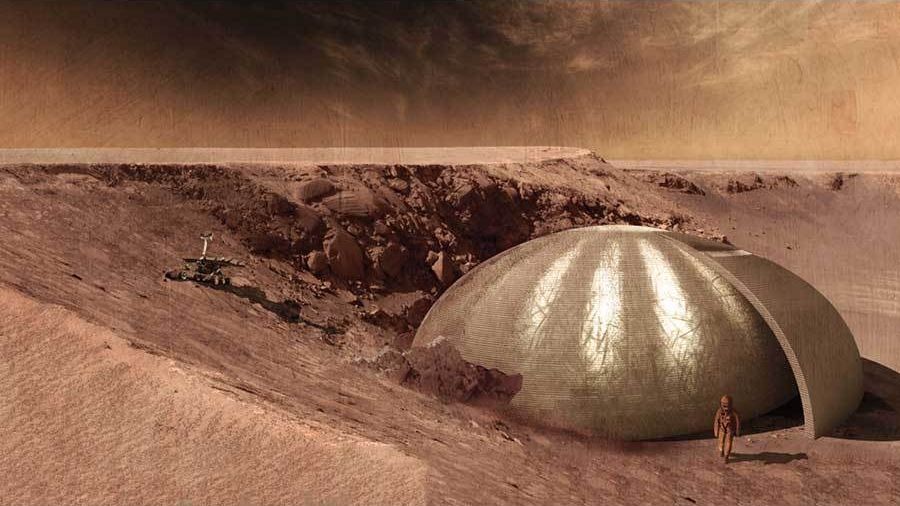 At a test facility in rural Illinois, engineers fabricate structural segments for buildings. But instead of using typical assembly techniques, here at this dirt-floor arena with tightly controlled conditions, teams employ robotic nozzles to extrude domes, beams and cylinders using material chosen for its similarity to the regolith found on the surface of the planet Mars.
The activity comprises part of the 3D-Printed Mars Habitat Design Challenge, which focuses on how to go about building structures on Mars to eventually house human explorers. It's a component of the NASA Centennial Challenges, a contest series that solicits the public to solve the practical problems of future space exploration. The third phase of the challenge, underway now, focuses on creating stable structural members using an additive manufacturing process based on basaltic rock geologically similar to what is found on Mars.
"This leg of the competition is focused on the materials, specifically the indigenous Mars regolith," explains Tony Kim, deputy program manager for NASA's Centennial Challenge. "All of the teams are approaching it differently." Previous phases of the challenge focused on conceptual designs for habitats and proof-of-concept 3D-printed shapes. But this showdown emphasizes pure structural strength, as the 3D-printed cylinders, beams and domes will be subjected to loading until they fail.
Read more