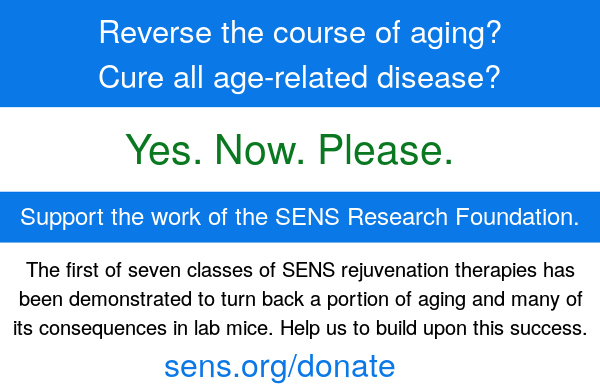 Giving Tuesday is two weeks away, on November 28th. As manufactured celebrations go, I think we could do far worse than a holiday that encourages philanthropy. While most people are basically well-meaning, and I think would agree in principle that support for medical research is to the common good, we all lead busy lives and need prompting.
So here is a prompt, to remind you that we are all still aging, that aging causes an enormous toll of suffering and death, and that, absent progress, you too will be one of the victims. To offer material support to the research groups that are working to treat the causes of aging is not just the most compassionate thing you can do for the millions suffering today, it is also in your self-interest for tomorrow. If you are organized enough to save for retirement, because it will make your life easier decades from now, then you should also be organized enough to help establish the new medical technologies that will reduce or eliminate the age-related disease that also lies ahead, waiting.
The most effective way to help make progress through charitable contributions is to give to the SENS Research Foundation or their allies such as the Methuselah Foundation. This year we have put out a call for SENS Patrons, people willing to pledge a monthly contribution to the SENS Research Foundation. Josh Triplett, Christophe and Dominique Cornuejols, and Fight Aging! have put up a $36,000 challenge fund to encourage new supporters, and we will match the next full year of your donations if you sign up before the end of 2017.
Read more