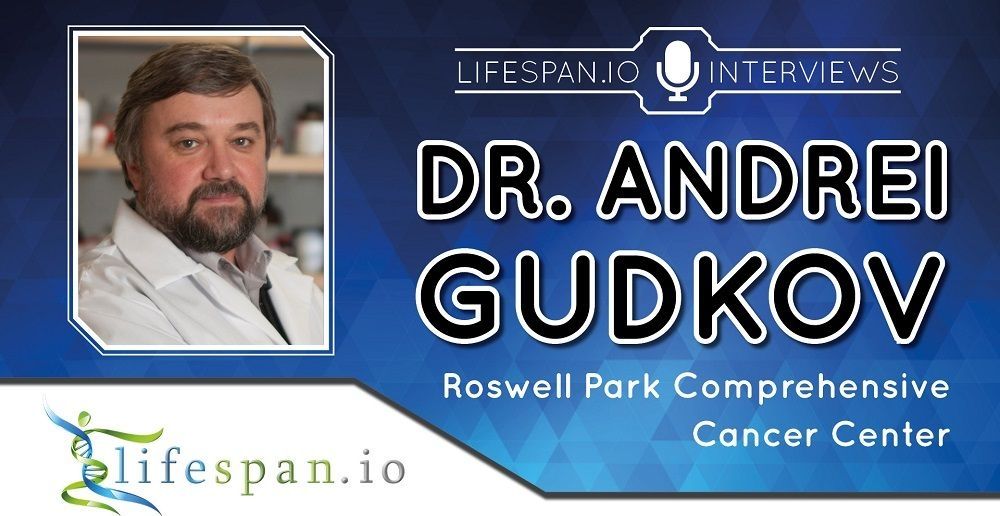 Elena Milova is at the Interventions to extend healthspan and lifespan 2018 conference in Kazan this week. This is an important conference in the aging research field, and it includes a variety of leading experts giving talks about their research. One of these experts is Andrei Gudkov, and Elena had the opportunity to talk with him about his research.
Dr. Andrei V. Gudkov, Ph.D., D.Sci, is a Scientific Co-Founder of Cleveland Biolabs, Inc. and has been its Chief Scientific Officer since June 2003. Dr. Gudkov serves as Chief Scientific Officer and Founder at Everon Biosciences, Inc. He co-founded Mega Biotech & Electronics Co., Ltd. and serves as its Chief Scientific Officer. Dr. Gudkov serves as Senior Vice President of Basic Science at Roswell Park Cancer Institute. He has over 25 years of experience in biomedical research. Prior to 1990, he worked with the National Cancer Research Center in Moscow (USSR), where he led a broad research program focused on virology and cancer drug resistance.
In 1990, he re-established his lab at the University of Illinois at Chicago, where he became a tenured faculty member in the Department of Molecular Genetics. In 1999, he defined p53 as a major determinant of cancer treatment side effects and suggested this protein as a target for therapeutic suppression. In 2001, Dr. Gudkov moved his laboratory to the Lerner Research Institute at the Cleveland Clinic Foundation, where he served as Chairman of the Department of Molecular Biology and Professor of Biochemistry at Case Western Reserve University. He has served as a Director of Cleveland Biolabs, Inc. since June 2003.
Read more