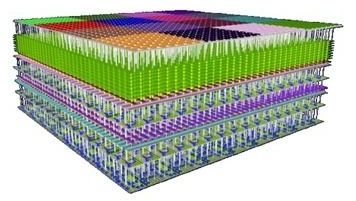 The Defense Advanced Research Projects Agency (DARPA) has selected the teams for two research programs that the agency hopes will provide technologies to transcend the limits of Moore's Law.
reported on both programs last September, just after they were announced.
As part of DARPA's $1.5 billion Electronics Resurgence Initiative (ERI) to "jumpstart innovation in the electronics industry," the Three Dimensional Monolithic System-on-a-Chip (3DSoC) program and the Foundations Required for Novel Compute (FRANC) program are focused on developing chip-level innovations that lead to more powerful and efficient computing systems. We
Last week, during DARPA's first ERI Summit in San Francisco, the agency revealed the research teams selected to drive each of these efforts. For the 3DSoC program, groups from the Georgia Institute of Technology, Stanford University, Massachusetts Institute of Technology, and Skywater Technology Foundry were tapped. The corresponding research teams for the FRANC program will come from HRL Laboratories; Applied Materials, Inc.; Ferric, Inc.; the University of California, Los Angeles; the University of Minnesota; and the University of Illinois at Urbana-Champaign.
Read more