We have now launched the Rejuvenation Roundup Podcast, a monthly podcast accompanying our regular Rejuvenation Roundup digest. Check out the first episode of this new show hosted by Ryan O'Shea from Future Grind.
---
Brought to you by Nicola Bagalà, the Rejuvenation Roundup is our monthly digest, which takes a look at the big news stories involving the industry and helps keep you informed of current developments in the aging research field. Hosted by Ryan O'Shea of the Future Grind podcast, the Rejuvenation Roundup podcast is a regular podcast that complements the monthly written Roundup articles that we publish here on the blog. The podcast aims not to replace the regular written Roundup articles but to offer a deeper dive into some of the key stories, and it includes quotes and interviews from industry leaders. We suggest enjoying both written and podcast versions every month!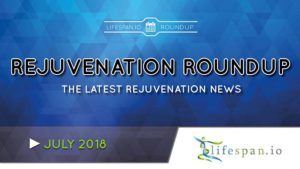 Ryan covers a variety of topics from a busy July in the rejuvenation biotechnology field, including the placement of "ageing-related" into the 11th revision of WHO's International Classification of Diseases (ICD-11) along with insights from industry leaders about developing news in the field. You can find the accompanying July Rejuvenation Roundup article here, where Nicola brings you more industry news not covered in the podcast.
Read more