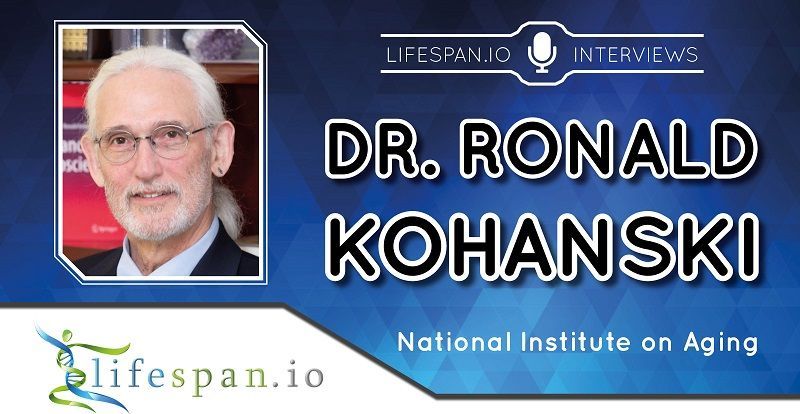 It was a pleasure speaking to Dr. Ronald Kohanski at the 2019 Ending Age-Related Diseases conference. Dr. Kohanski joined the field of aging research in 2005 as a Program Officer for the Division of Aging Biology at the National Institute on Aging. He moved on to become its Deputy Director in 2007 and has held the position ever since. Within aging research, he has focused his efforts on the areas of stem cell and cardiovascular biology.
Besides his work at the NIA, Ronald Kohanski is a co-founder and co-leader of the trans-NIH Geroscience Interest Group (GSIG) with which he has organized several summits to discuss and disseminate the group's focus. The GSIG directs its attention toward aging as the major risk factor for most chronic age-related diseases, and Dr. Kohanski actively encourages researchers to expand studies beyond laboratory animals. He underwrites the importance of addressing the basic biology of aging explicitly in human and non-laboratory animal populations. He believes that age should be considered a fundamental parameter in research that uses animal models of chronic disease.
Dr. Kohanski was trained in the field of biochemistry. He received his PhD from the University of Chicago in 1981, after which he conducted a postdoctoral fellowship with M. Daniel Lane at the Johns Hopkins University School of Medicine. He held a faculty position at the Mount Sinai School of Medicine for 17 years before returning to Johns Hopkins as a faculty member and researcher in the areas of enzymology and developmental biology of the insulin receptor.