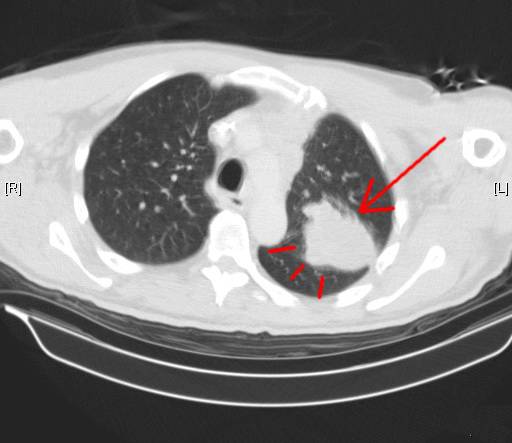 Thoughts on this. True or BS.
---
DCA Dichloroacetate Breakthrough Anticancer Agent
Mary, an old patient in my office, called in last week to ask for advice about her husband, Jim. He had been quite healthy for many years, and recently noticed back pain. His primary care doctor ordered a CAT scan which showed a large lung mass (Red Arrow Above image) and destructive lesions in the spine. Biopsies confirmed the lung mass was indeed cancer, with metastatic spread to the thoracic vertebral bodies. Jim was referred to the local oncologist who started radiation and chemotherapy. Above Header Image CAT scan of lung cancer mass (Red Arrow) in left lung courtesy of wikimedia commons…
After a week of chemotherapy, Jim was miserable from the adverse effects of nausea, and vomiting, and loss of appetite. Jim felt so bad, he declined any further chemotherapy treatment. Mary asked if I had any suggestions.