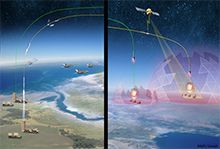 Phase 3 of DARPA's Operational Fires (OpFires) program began in earnest this month with government and contractor staff finalizing the system architecture approach, including a plan to use existing components from ground-launched missile systems, along with new booster technologies designed to support future hypersonic weapons. Lockheed Martin Missiles and Fire Control is leading the integration effort for the third phase of the program, which will focus on first stage booster design and maturation, launcher development, and vehicle integration.
Broad participation from the Army's Combat Capabilities Development Command, range safety offices, and performers from OpFires Phase 2 propulsion teams contributed to success in the early, critical stages of the program. Since 2018, OpFires has made impressive strides developing and demonstrating advanced booster technologies that had never been used in prior systems. Phase 1 and 2 performers Aerojet Rocketdyne, Exquadrum, and Sierra Nevada Corporation continue work towards throttle-able upper stage rocket motors suitable for tactical transport, storage, and engagement.
"The objective of DARPA's OpFires program is to deliver an intermediate-range surface-to-surface missile in line with the Department of Defense's push to field hypersonic platforms," said MAJ Amber Walker (USA), the DARPA program manager for OpFires.