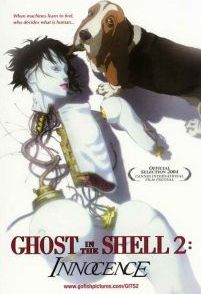 ---
From the editor: So far, the primary purpose of this site has been to serve as a "central point of information about anime and manga studies", and a collection of resources that would be useful to the anime and manga studies community. However, I also gladly welcome new material, such as actual original commentary on anime/manga. If you would like to contribute an essay on any topic related to anime/manga, whether commentary or original research, please feel free to contact me.
The first such essay that I am happy to feature is "Towards a New Posthuman Ontology – The Anti-Anthropocentrism of Ghost in the Shell 2: Innocence".
Yalun Li is the Co-founder of Dunes Workshop, an inter-disciplinary research and design organization. She is a candidate of Master of Architecture at Harvard University GSD and holds a Bachelor degree of Architecture at Syracuse University with a Philosophy minor. Her research interests include topics on Postmodernism theories in relation to media studies.