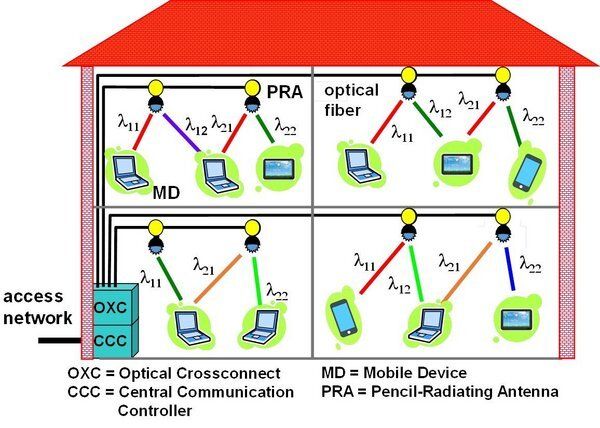 Optics-based technologies such as optical fibers have strongly influenced the age of wired communication. Now they look set to revolutionize wireless communications as well and solve key issues with traditional radio-based approaches by using steerable, narrow infrared beams to send large amounts of data to user devices individually in an energy efficient and secure manner. Researchers at Eindhoven University of Technology are developing new methods for infrared wireless communications that could change how we access data forever.
The modern world is fast becoming a wireless, infrared world! Until now, the majority of wireless communications, both indoor and outdoor, have been radio-based. Although signal modulation techniques can squeeze more data into the limited radio-frequency spectrum and spatial multiplexing can combine multiple data signals into one signal without requiring more spectrum, we are struggling to meet our exponentially growing data demands.
The solution could be optical wireless communications, which use optical wavelengths over a wide spectral range from a few hundred nanometers to a few micrometers that includes visible and infrared radiation. Ton Koonen and researchers at the Institute for Photonic Integration are designing prototype systems with a capacity of more than two thousand times that of current shared WiFi systems. They have presented their work in an invited paper for the themed issue, "Optical Wireless Communication," of the Royal Society's Philosophical Transactions A, the oldest ongoing scientific journal in the world. Isaac Newton's first paper, "New Theory about Light and Colours," was published in the same journal in 1672.