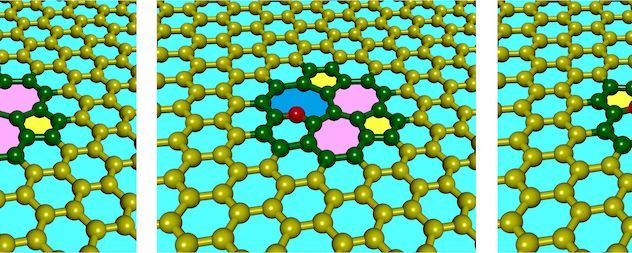 Graphene and other carbon materials are known to change their structure and even self-heal defects, but the processes involved in these atomic rearrangements often have high energy barriers and so shouldn't occur under normal conditions. An international team of researchers in Korea, the UK, Japan, the US and France has now cleared up the mystery by showing that fast-moving carbon atoms catalyse many of the restructuring processes.
Graphene – a carbon sheet just one atomic layer thick – is an ideal system for studying defects because of its simple two-dimensional single-element structure. Until now, researchers typically explained the structural evolution of graphene defects via a mechanism known as a Stone-Thrower-Wales type bond rotation. This mechanism involves a change in the connectivity of atoms within the lattice, but it has a relatively large activation energy, making it "forbidden" without some form of assistance.
Using some of the best transmission electron microscopes available, researchers led by Alex Robertson of Oxford University and Kazu Suenaga of AIST Tsukuba found that so-called "mediator atoms" – carbon atoms that do not fit properly into the graphene lattice – act as catalysts to help bonds break and form. "The importance of these rapid, unseen 'helpers' has been previously underestimated because they move so fast and have been next-to-impossible to observe," says co-team leader Christopher Ewels, a nanoscientist at the University of Nantes.