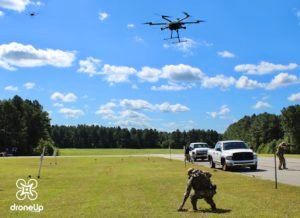 DroneUp and NATO Allied Command Transformation performed an experiment to prove a new and innovative way of resupplying soldiers on the battlefield. The experiment proved that autonomous drone delivery works.
"DroneUp recently partnered with North Atlantic Treaty Organization Allied Command Transformation, Joint Force Development Directorate, Operational Experimentation branch in an experiment designed to determine if autonomous delivery of a specified payload to identified recipients under field conditions could be proven viable," says a press release.
The experiment took place on September 21, 2020 in Lawrenceville, VA and included Pale Horse
Weapons Institute, Daniel Defense, Ultimate Training Munitions (UTM), and WeaponLogic. In summary, here's how the autonomous drone delivery system test worked: soldiers running out of ammunition hit a button (which can be attached to their hat or clothing.) That button signals a drone to fly to that individual soldier and drop a payload – which can be unique to that individual. Then the drone returns home for the next mission.