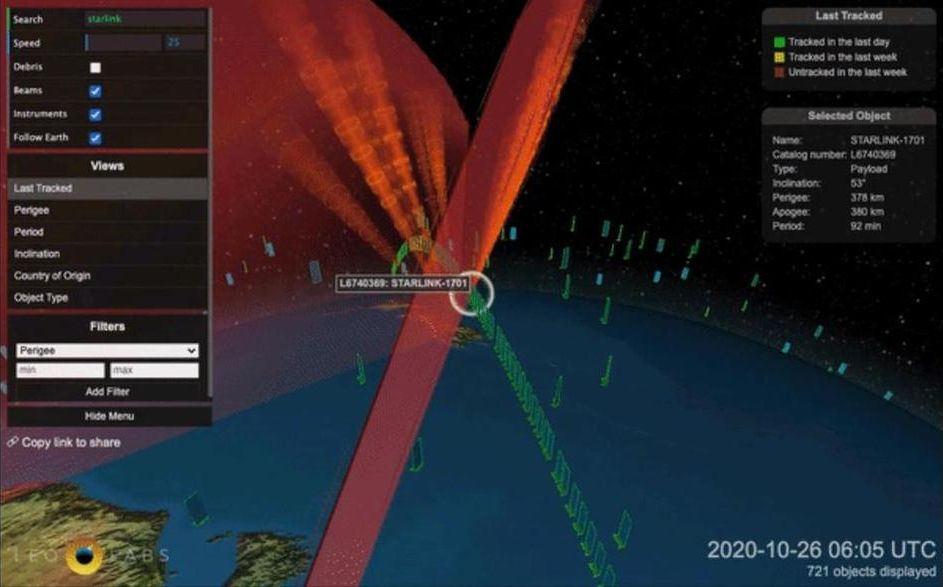 SpaceX is ready to offer Starlink internet in northern United States and southern Canada. The company currently operates approximately 888 internet-beaming satellites in low Earth orbit. SpaceX plans to deploy thousands of satellites to provide broadband coverage globally by 2021. To track the satellites in orbit SpaceX signed a deal with LeoLabs, the company announced the partnership today October 27. —"LeoLabs is pleased to announce a commercial agreement with SpaceX to support tracking of Starlink satellites during the initial on-orbit phase of missions," LeoLabs representatives wrote in a press release. "Under this partnership, SpaceX utilizes LeoLabs Launch and Early Orbit service to track all Starlink satellites beginning immediately after deployment, providing SpaceX with rapid orbital location and identification support during the first few days of new missions."
SpaceX and LeoLabs have been working together since March this year. Through LeoLabs' advanced tracking system, SpaceX obtains detailed data rapidly about where each Starlink satellite is located in space. LeoLabs states it delivers data within 1-hour after a Starlink satellite passes over one of its radar stations on Earth.
"LeoLabs is excited to work with SpaceX as they launch the world's largest constellation of satellites to provide global broadband internet access," the Chief Executive Officer at LeoLabs Dan Ceperley wrote in a statement released by the company. "Our global radar network and software platform allow LeoLabs to acquire an entire batch of Starlink satellites faster than any other organization in the world and provides SpaceX with a level of certainty that was previously not available," he added.