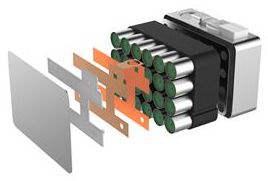 New York has among the world's tightest rules on fire safety and regular readers of this site will be aware that that has had a big impact on the ability to site lithium-ion based battery energy storage systems (BESS) within the boundaries of the state's urban regions.
While the development of large-scale systems is taking place in less densely populated upstate areas of New York, commercial and industrial (C&I) battery storage, which has been used elsewhere around the country to help businesses manage their energy costs and the wider network to adopt greater shares of renewables, has not really been able to gain a foothold.
A couple of weeks ago the New York Power Authority (NYPA) — a public-benefit corporation which serves around 25% of the state's electric load — began trialling an energy storage system using lithium batteries based around start-up Cadenza Innovation's 'Supercell' architecture. Wrapping individual cells into a protective housing, the technology is a low-cost way to prevent thermal runaway from cascading through a battery rack and causing fires.