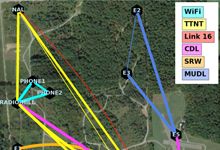 Field tests validate tech that automatically links diverse radio waveforms in contested environments.
Like.
Comment.
---
A DARPA network technology program recently concluded field tests demonstrating novel software that bridges multiple disparate radio networks to enable communication between incompatible tactical radio data links – even in the presence of hostile jamming. The technology is transitioning to Naval Air Systems Command (NAVAIR) and the Marine Corps, which plans to put the software on a software reprogrammable multi-channel radio platform for use on aircraft and ground vehicles.
Started in 2016, the Dynamic Network Adaptation for Mission Optimization program, or DyNAMO, has developed technologies that enable automated, real-time dynamic configuration of tactical networks to ensure that heterogeneous radio nodes – whether on ground, air, or sea – can interoperate in a contested battlespace.
As a capstone event to conclude the program, DARPA recently demonstrated DyNAMO capabilities in over-the-air field tests at the Air Force Research Lab's experimentation and test facility near Rome, New York. Diverse military tactical data links, including LINK 16, Tactical Targeting Networking Technology (TTNT), Common Data Link (CDL), and Wi-Fi networks were deployed to the test site. DyNAMO successfully provided uninterrupted network connectivity between all the data links under varying conditions in a simulated contested environment.