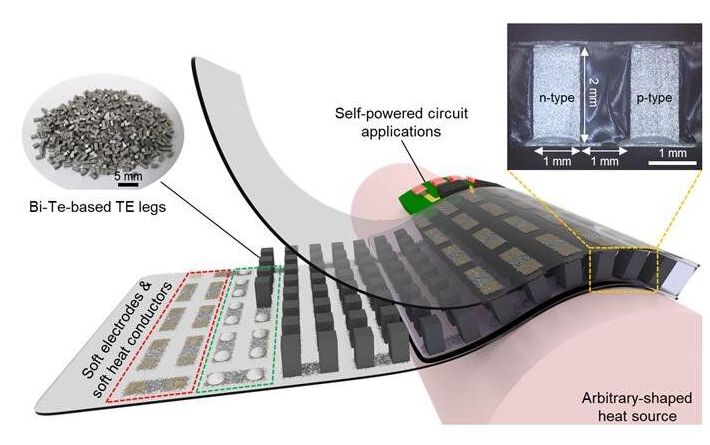 A thermoelectric device is an energy conversion device that uses the voltage generated by the temperature difference between both ends of a material; it is capable of converting heat energy, such as waste heat from industrial sites, into electricity that can be used in daily life. Existing thermoelectric devices are rigid because they are composed of hard metal-based electrodes and semiconductors, hindering the full absorption of heat sources from uneven surfaces. Therefore, researchers have conducted recent studies on the development of flexible thermoelectric devices capable of generating energy in close contact with heat sources such as human skins and hot water pipes.
The Korea Institute of Science and Technology (KIST) announced that a collaborative research team led by Dr. Seungjun Chung from the Soft Hybrid Materials Research Center and Professor Yongtaek Hong from the Department of Electrical and Computer Engineering at Seoul National University (SNU, President OH Se-Jung) developed flexible thermoelectric devices with high power generation performance by maximizing flexibility and heat transfer efficiency. The research team also presented a mass-production plan through an automated process including a printing process.
The heat energy transfer efficiency of existing substrates used for research on flexible thermoelectric devices is low due to their very low thermal conductivity. Their heat absorption efficiency is also low due to lack of flexibility, forming a heat shield layer, e.g., air, when in contact with a heat source. To address this issue, organic-material-based thermoelectric devices with high flexibility have been under development, but their application on wearables is not easy because of its significantly lower performance compared to existing inorganic-material-based rigid thermoelectric devices.