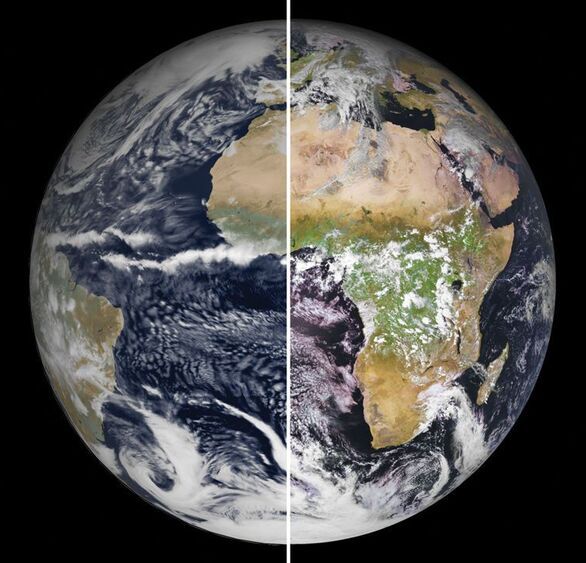 The European Union is finalizing plans for an ambitious "digital twin" of planet Earth that would simulate the atmosphere, ocean, ice, and land with unrivaled precision, providing forecasts of floods, droughts, and fires from days to years in advance. Destination Earth, as the effort is called, won't stop there: It will also attempt to capture human behavior, enabling leaders to see the impacts of weather events and climate change on society and gauge the effects of different climate policies.
"It's a really bold mission, I like it a lot," says Ruby Leung, a climate scientist at the U.S. Department of Energy's (DOE's) Pacific Northwest National Laboratory. By rendering the planet's atmosphere in boxes only 1 kilometer across, a scale many times finer than existing climate models, Destination Earth can base its forecasts on far more detailed real-time data than ever before. The project, which will be described in detail in two workshops later this month, will start next year and run on one of the three supercomputers that Europe will deploy in Finland, Italy, and Spain.
Destination Earth rose out of the ashes of Extreme Earth, a proposal led by the European Centre for Medium-Range Weather Forecasts (ECMWF) for a billion-euro flagship research program. The European Union ultimately canceled the flagship program, but retained interest in the idea. Fears that Europe was falling behind China, Japan, and the United States in supercomputing led to the European High-Performance Computing Joint Undertaking, an €8 billion investment to lay the groundwork for eventual "exascale" machines capable of 1 billion billion calculations per second. The dormant Extreme Earth proposal offered a perfect use for such capacity. "This blows a soul into your digital infrastructure," says Peter Bauer, ECMWF's deputy director of research, who coordinated Extreme Earth and has been advising the European Union on the new program.