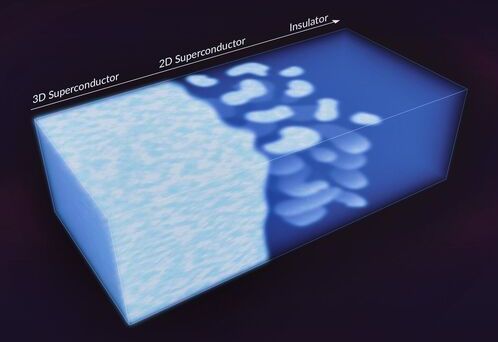 Creating a two-dimensional material, just a few atoms thick, is often an arduous process requiring sophisticated equipment. So scientists were surprised to see 2D puddles emerge inside a three-dimensional superconductor—a material that allows electrons to travel with 100% efficiency and zero resistance—with no prompting.
Within those puddles, superconducting electrons acted as if they were confined inside an incredibly thin, sheet-like plane, a situation that requires them to somehow cross over to another dimension, where different rules of quantum physics apply.
"This is a tantalizing example of emergent behavior, which is often difficult or impossible to replicate by trying to engineer it from scratch," said Hari Manoharan, a professor at Stanford University and investigator with the Stanford Institute for Materials and Energy Sciences (SIMES) at the Department of Energy's SLAC National Accelerator Laboratory, who led the research.