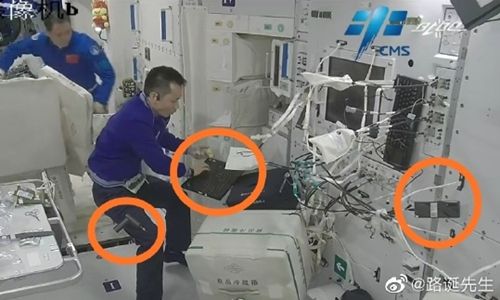 Chinese taikonauts' electronic devices that were brought to Tiangong space station drew Chinese IT fans' attentions on social media Sina Weibo. Netizens have found out those devices are all produced by Chinese companies.
---
Netizens have found that the electronic devices brought to China's Tiangong space station and Shenzhou-12 capsule are all produced by Chinese companies. The topic "daily life of Chinese astronauts" had 240 million views on Sina Weibo by Thursday.
Various devices including a Huawei P30 mobile phone, Lenovo ThinkPad laptop and Xiaomi electronic screwdriver can be seen clearly in the livestream, released on Wednesday.
Mobile phones, tablets are connected to Wi-Fi with a downlink rate of 1.2 gigabits per second, which is equivalent to 5G speeds on the ground.