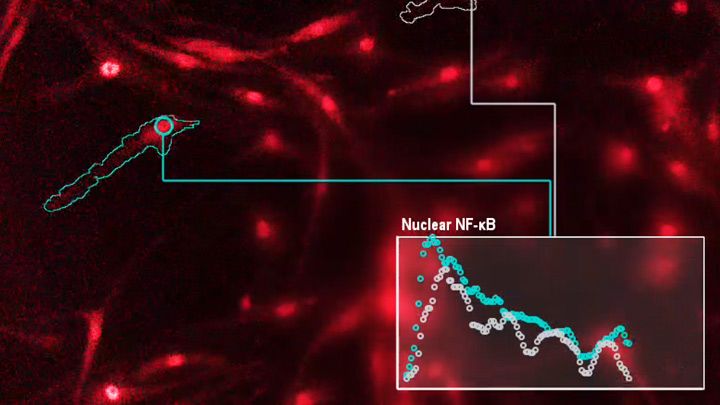 In the language of Morse code, the letter "S" is three short sounds and the letter "O" is three longer sounds. Put them together in the right order and you have a cry for help: S.O.S. Now an NIH-funded team of researchers has cracked a comparable code that specialized immune cells called macrophages use to signal and respond to a threat.
In fact, by "listening in" on thousands of macrophages over time, one by one, the researchers have identified not just a lone distress signal, or "word," but a vocabulary of six words. Their studies show that macrophages use these six words at different times to launch an appropriate response. What's more, they have evidence that autoimmune conditions can arise when immune cells misuse certain words in this vocabulary. This bad communication can cause them incorrectly to attack substances produced by the immune system itself as if they were a foreign invaders.
The findings, published recently in the journal Immunity, come from a University of California, Los Angeles (UCLA) team led by Alexander Hoffmann and Adewunmi Adelaja. As an example of this language of immunity, the video above shows in both frames many immune macrophages (blue and red). You may need to watch the video four times to see what's happening (I did). Each time you run the video, focus on one of the highlighted cells (outlined in white or green), and note how its nuclear signal intensity varies over time. That signal intensity is plotted in the rectangular box at the bottom.