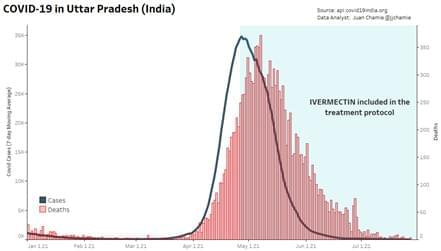 Article at gnews reports on announcement by Dr. Ozaki, chairman of the Tokyo Metropolitan Medical Association Greenlight for Ivermectin in Japan. Excerpts in italics with my bolds.
Since Tokyo summer Olympic Game ended on August 8 2021, the urgent status of the pandemic as Japan is now in its worst surge of the COVID-19 pandemic since the onset of the crisis in such a megacity of 14 million. Most recently, a record number of new cases were reported at 20,140 on August 14. Deaths aren't as high as successive waves of the pandemic from February2021to the end of May, but nerves are frayed with record numbers of infections. Dr. Ozaki, The chairman of the Tokyo Metropolitan Medical Association, recently led an emergency press conference on August 13 Dr. Haruo Ozaki shared those 18,000 new infections are reported daily. However, the death count has eased as compared to previous surges.
How to deal with the current dilemma is a huge challenge to Japanese government and medical agencies? Fortunately, India has an excellent testimonial. Since April 28 India medical officials started providing Hydroxychloroquine and ivermectin to its massive population. As India is the major pharmaceutical manufacture in the world, they were ready for this massive drug distribution. Miraculously, COVID cases have plummeted quickly since then thanks to the new rules.